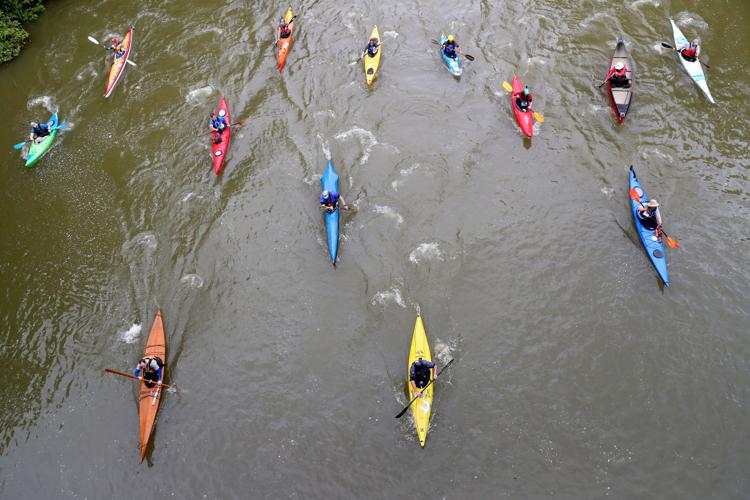 With a name shortened from "River Anna" in honor of England's Queen Anne, the Rivanna River is the largest tributary of the great James River. Reaching from its north fork in Greene County to the southern terminus in Albemarle County, its banks once were home to the Monacan Indian Tribe and still provide a lush habitat for a variety of plant and animal species, including humans and dogs with an interest in the great outdoors.
The Rivanna Trail offers more than 20 miles of hiking trails, circling Charlottesville and following the river for significant stretches. The Rivanna was the first river in the commonwealth to receive the governmental designation of "Scenic River," and nowhere is this more evident than on the trail. Offering river access and beautiful views, much of the trail is paved and suitable for walking or biking. Fishing is another popular river activity, yielding smallmouth bass and redbreast sunfish, as well as the occasional bluegill, rock bass and black crappie, among others. Darden Towe Park and Riverview Park provide convenient spots along the trail for swimming, wading, canoeing or kayaking. For little explorers, the Lewis & Clark Exploratory Center in Darden Towe provides a hands-on experience of the river's history, including exhibits, crafts activities and tours of full-size replicas of historic wooden boats.
Located about 20 miles southeast of Charlottesville in Fluvanna County, Scheier Natural Area is another point along the Rivanna that's worth exploring. Composed of 100 acres, with nine fish hatchery ponds and three miles of trails, the natural area is open daily. Free public workshops also are held on-site between April and October, providing visitors with the chance to learn more about identifying nighttime sounds in the woods, foraging for and making use of edible plants and other topics covered by master naturalists.
Environmentalists and concerned community members can volunteer their time amid the natural wonders of the river. The Rivanna Conservation Alliance provides a variety of ways to help protect the river and its surroundings, including the StreamWatch monitoring program in which citizen-scientists help to collect data about water quality, as well as flora and fauna in the river and its watershed to support ongoing stewardship of this natural resource. Volunteers also help to organize river cleanups, lead workshops in local schools and many other day-to-day tasks that support the nonprofit's mission.