Nearly a year to the day he went into remission, Billy Price hops off the Virginia baseball team bus and squints through the mid-May sun. The kids scaling the jungle gym at Hugh K. Cassell Elementary School in Waynesboro break into a chant: "U-V-A! U-V-A!" As Billy's blonde hair blows in the wind, 10-year-old Parker Staples hurtles off the bus and sprints past him toward the school, where his mother, Jessica, is waiting just outside a side entrance. Billy lets his lips curl into a smile.
"Me and Parker went through very similar things," Billy says, the bus engine stirring in the background. "To see him as healthy as he is, and energetic and happy, to see him around all his friends, it's more like inspiring and motivating that, I don't know. That I can do the same."
It might seem puzzling to consider what Billy, a 6-foot-6, 215-pound left-hander for the Cavaliers, could find inspiring and motivating in Parker, a bouncy kid with a pale face covered by brown freckles.
But Billy and Parker share an experience unknown to most. On Dec. 13, 2017, Parker, then 8, was diagnosed with stage 3 Burkitt's non-Hodgkin lymphoma. Three months later, on Feb. 23, 2018, Billy, then 18, was diagnosed with stage 2 diffuse large B-cell non-Hodgkin lymphoma.
They both know what it feels like to spend days on end in hospital beds, looking up at the concerned faces of loved ones as chemotherapy drugs pump through their body. They both know what it feels like to have their hair shaved off long before it's ready to naturally fall out.
They also know what life is like on the other side of cancer, having stared into the specter of death and brushed it off. For both, that's included finding community and purpose in coach Brian O'Connor's team. Each aims to pitch in the majors in the future — Billy is further along that path — but in the meantime they've formed a humbling bond built on a passion for pitching and mutual empathy.
Staples, a Waynesboro native, "signed" with Virginia last April through Team Impact, a national nonprofit that connects children facing serious or chronic illnesses with college athletic teams. He's spent the past year hanging around UVa games and practices.
On Tuesday evening, he joined the Cavaliers in sprinting out of the dugout to embrace left-hander Riley Wilson after the final out was recorded on the team's 8-7 win over VCU, his diminutive frame swallowed by the wave of white jerseys.
Less than 24 hours later, he's standing beside the UVa players again, this time in front of the gymnasium at Hugh K. Cassell, where he's a fourth grader. His classmates are buzzing.
The Cavaliers are given a hero's welcome. After a Q&A session, the team returns to the bus for the next leg of their trip to Blacksburg, where they are set to conclude the regular season with a weekend series at Virginia Tech.
Billy hangs back for a few moments, watching Parker disappear behind the school's doors, ready to resume his day as an elementary school student with a special perspective.
"He looks up to us," Billy says. "And I'm looking up to him."
---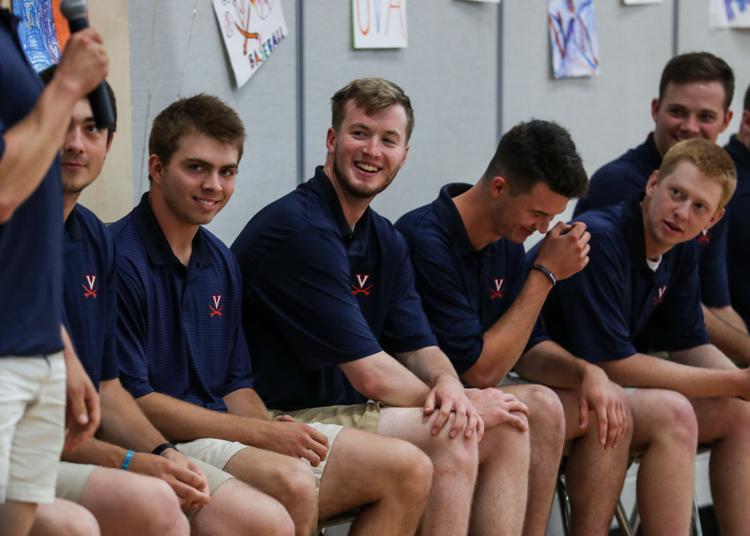 The night Billy found out he had cancer, he escaped into the northern New Jersey night.
He found himself at the Delbarton School baseball field, where he and his brother, Robert, had spent more time than anywhere except their house, where he had grown into the left-hander coveted by some of the nation's elite college baseball programs.
It was there, at the site of his greatest athletic triumphs, where Billy let his guard down.
Pacing, he phoned Robert and vented. Robert, a right-hander at Tulane and two years Billy's senior, is the charismatic brother. Billy, meanwhile, has always been more reserved, content to let Robert place his order at the deli counter. Sometimes his parents would grow frustrated by his reticence: Bill, talk!
But on Feb. 23, 2018, the facts at hand were too overwhelming for even Billy to downplay. He was 18. He was months from beginning his baseball career at Virginia, a school to which his family had longtime ties. And he had just been diagnosed with cancer. A thought bounced around his head: What did I do to deserve this?
"God has a plan," Robert preached through the phone. "There's always an overlying plan. Adversity like this, and how you handle it, sort of defines you going forward."
Billy listened. Then he hung up the phone and went from one spiritual center to another. The Catholic school's church was empty, quiet and dark. Billy sat in the pew, his phone buzzing with texts from his mother.
"Come home," Diana Price wrote.
"I need to know you're okay," she wrote in another.
The night of Feb. 23 had given way to the morning of Feb. 24. It was nearing 1 a.m. Billy sat in the church, with its circular pew engulfing the altar in the middle. The only two lights in the building shone on the altar. Billy gazed into the brightness and made a decision:
This isn't the end for me.
---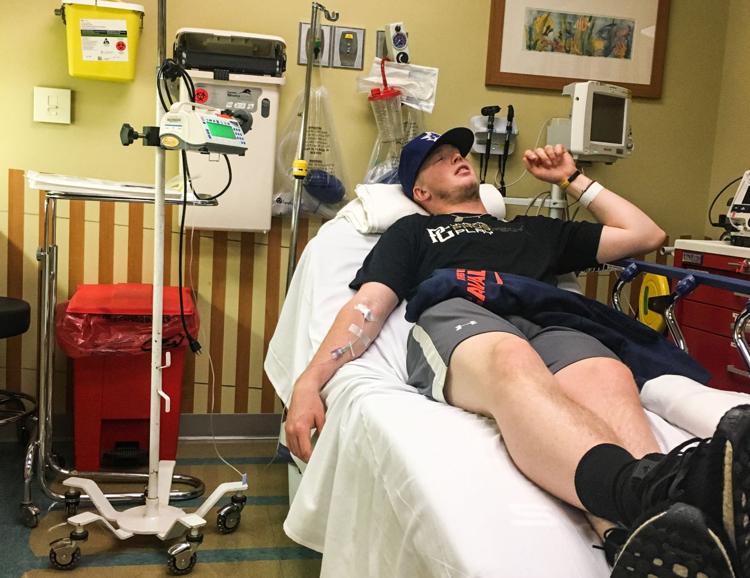 Billy was 3 or 4 when he first visited Grounds. His father, Michael, is a longtime friend of Virginia associate coach Kevin McMullan and his uncle, Bob, was a Cavaliers football assistant from 1997-2009 and now serves as a regional scout for the program.
Michael often brought pieces of Central Virginia back with him to New Jersey, loading up the family car with UVa T-shirts, hats, bibs, sweatshirts, blankets, footballs, notebooks and more.
So it felt fitting when, after a strong showing at a summer tournament in Georgia following his sophomore season, Virginia pitching coach Karl Kuhn was among the college coaches lighting up Billy's cell phone.
Billy committed to UVa before the start of the following school year. But when he learned he had cancer, the Prices pondered his college future.
"We wouldn't have blamed them if they pulled his offer," Diana said.
Kuhn squashed that thought, ensuring Billy that his scholarship was still on the table. Even as he endured a nine-week stint of chemotherapy, Billy had baseball on his mind — even when he slept. Michael placed a ball in Billy's crib when he was younger, and Billy took it with him as he graduated to larger mattresses.
His body had tried to take baseball from him, but the sport — even the littlest pieces of it — helped him summon the courage to heal.
He preferred to not speak about his condition. But sometimes it spoke for him. During the pregame singing of the national anthem, he'd stand alongside his teammates and remove his cap, the sunlight reflecting off his bald head.
Billy pitched a complete game, two-hitter in the 2017 New Jersey Non-Public State Championship as a junior, but the chemotherapy limited him to appearances out of the bullpen as a senior. Delbarton coach Bruce Shatel sometimes found room for him in the lineup.
Delbarton plays on Brian Fleury Memorial Field, named after the school's former coach who died of cancer in 2007. One afternoon there, Billy stepped up to the plate with then-Headmaster Brother Paul Diveny in attendance. Diveny had never seen a home run hit at the field.
Billy, who had started to lose some feeling in his fingers and toes due to neuropathy from the chemotherapy, lofted a ball out to right field. It sailed over the fence.
"There was no doubt about it," Michael said.
"The headmaster was crying, I was crying," Diana said. "You had a feeling [Fleury] was looking down on him. You had a feeling things were going to be all right."
Billy's reaction to the feat was muted. His perspective had expanded in recent weeks. When he sat in the waiting room at the Valerie Center at Goryeb Children's Hospital, waiting for his chemo sessions, he'd scan the faces around him.
"I see little kids getting affected a lot worse," he said. "If this 6-year-old can handle something a lot worse than what I have, then why am I feeling bad for myself?"
---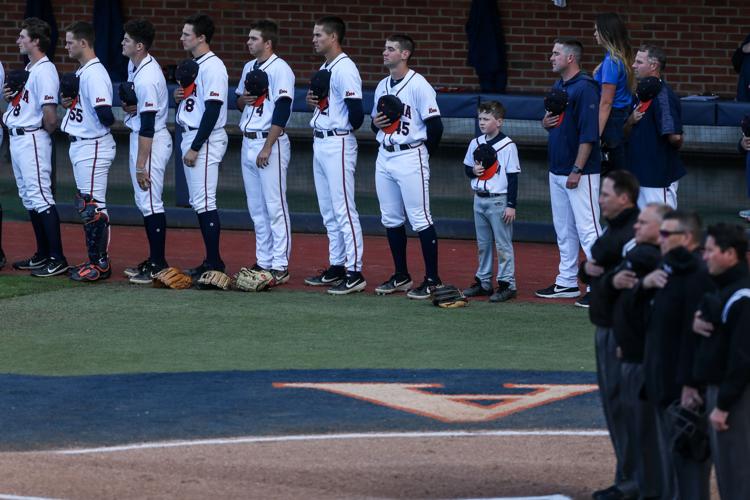 Parker Staples opted against self-pity. When his mother, Jessica, informed him that the "infection" that had him bedridden was actually cancer, his response was short.
"OK," he said, matter-of-fact. "OK."
His parents were less composed. A couple of days after Christmas, after receiving chemotherapy given through a lumbar puncture — the same method used on Billy — he developed a horrific headache. His words devolved into gibberish. Then the words stopped. He was unresponsive and started having a seizure.
"I ran out of the room," Jessica said. "They called a care team, an emergency response team."
After a trip to the intensive care unit, Parker was put on a ventilator. He awoke later that night at the sound of his mother's voice, perplexed by the funny tube in his mouth. He motioned to Jessica to hand him a whiteboard and a marker. His memory of the past few days had been sapped. "Santa?" he wrote.
"He thought he had missed Christmas and had missed Santa coming," Jessica said. "He had lost his memory. We said, 'Yeah, Santa came. Don't you remember?'"
He didn't, in fact, remember the makeshift chimney and fireplace made of construction paper his aunt had brought in, or the mock Santa who had paid him a visit on Christmas Eve. A few days later the ventilator was removed, and Parker's chemotherapy was altered so he wouldn't receive methotrexate, the drug that Jessica said had caused the seizure.
The treatments worked, and by April there was no evidence of disease in his body. He returned to Hugh K. Cassell, as did Jessica, who works there as a part-time reading assistant. She found herself delighting in the weekly walks through the grocery aisles, planning Parker's lunches for the week, a task she formerly dreaded.
Now, she found beauty in the mundane.
On April 16, 2018, Parker and his mother, father Jamie and other family members showed up at Davenport Field for what they were told would be a "signing day." They didn't have much else in the form of details. They were greeted by a Virginia staffer — "welcome to the team," they were told — and took a tour of the facilities. Then the staffer said the team was ready to see them.
Parker opened the clubhouse door, his family in tow, and watched the entire team stand and clap. He didn't cry when he received his cancer diagnosis, but when the team welcomed him, there were tears in his eyes.
Parker "signed" a contract with the team during a press conference, and took batting practice with the team. O'Connor critiqued his pitching form, relaying the proper angle to which Parker's leg should be lifted.
"I'm very excited to be a part of this team," Parker said then. "I love baseball and I want to be on this team in college."
---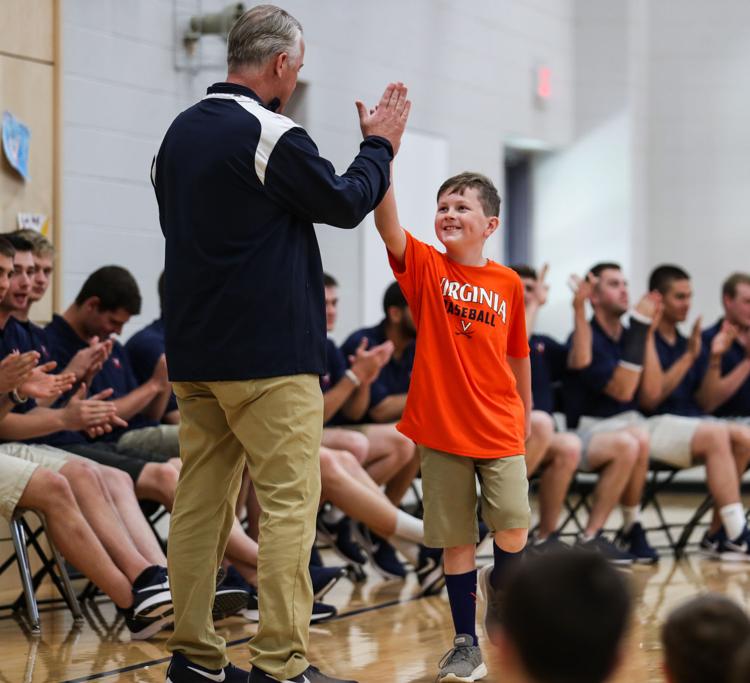 So did Billy. And after a whirlwind final few months of high school — and getting declared cancer-free on May 31, 2018 — his parents dropped him off on Grounds for July workouts.
His hair was still growing back, and he had some catching up to do in the weight room. But he was in Charlottesville. He wore around his neck a dog-tag necklace memorializing the date of his diagnosis. He lost it at some point over the summer, then had his remission date carved into a new tag.
Too weak to hurl a baseball, his early training was limited to towel work, which called for him to conclude his windup by whipping a hand towel against Kuhn's glove. Soon his strength returned, and follow-up blood work proved encouraging. He was starting to feel more like himself by the time fall rolled around.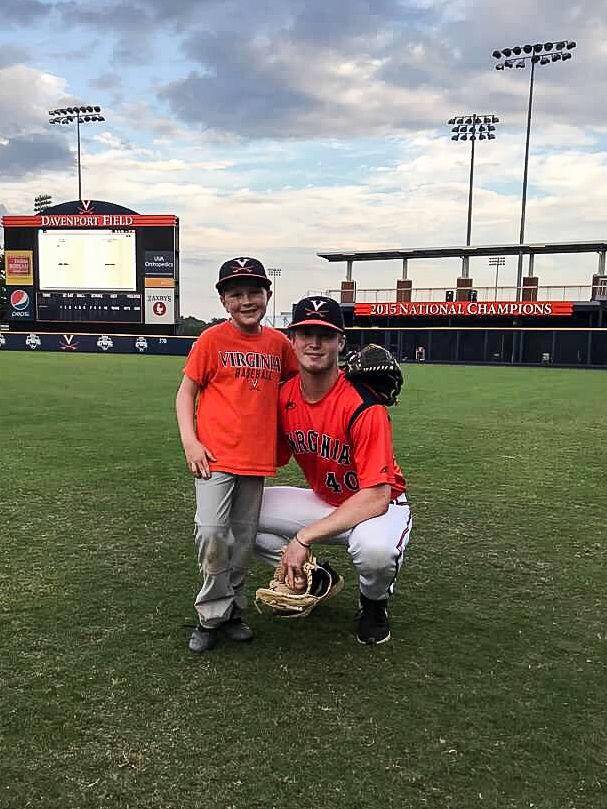 One October afternoon, Jessica parked her car in the Davenport Field parking lot and entered in search of Parker. Most of the players had gone home for the day. She found him in the outfield, blue Virginia cap atop his head, throwing balls to Billy.
Jessica had met Billy only briefly, but right-hander Chesdin Harrington, the primary conduit between Parker and the team, had passed on a tidbit. Early in the season, Harrington asked Billy over text if he'd be interested in joining Parker's mentorship team.
"I would absolutely love to be part of it," Billy wrote back. "I would do anything for that kid."
Jessica approached the boys. Neither noticed her at first, so engrossed in each other's presence they were, Billy tossing Parker grounders and pop flies, Parker retrieving the balls and flinging them back to Billy. The sun was setting over Disharoon Park.
Two boys who dreamed of playing baseball for Virginia were now both on the team.