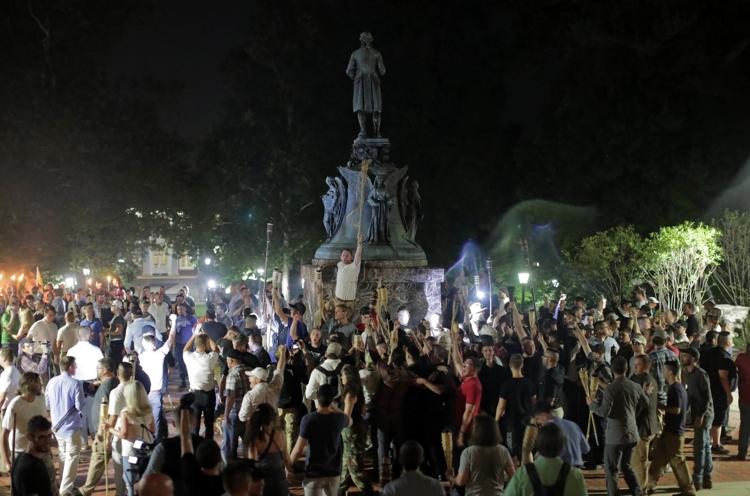 They had heard it might be coming. But on the evening of Aug. 11, no one at the University of Virginia had planned for the torches, for the chants, for the march on the Lawn, for the surrounding of students or for the months of recrimination that would follow.
One year later, everyone agrees: That torchlit march on UVa's Grounds couldn't happen again. New administrative hires and updated First Amendment rules have built a latticework over the legal free-for-all that used to be the Lawn.
The university maintains it did as much as it could on Aug. 11 and has made responsible changes since.
The biggest change has been UVa's new free speech policy for alumni and outside protesters, suggested by the Deans Working Group, which conducted a far-reaching review of UVa's response. Now, to hold a demonstration, those groups must be invited by a student group or apply to protest at specific times and locations.
 But officials are hesitant to promise that new rules will prevent a similar rally. And some students and faculty remain skeptical that the university would crack down on white supremacists should they flout the new rules. As UVa and Charlottesville prepare for the anniversary of last year's ill-fated Unite the Right rally, those involved in the lead-up the evening before are still dealing with frustration, anxiety and a distrust of leadership.
Thousands of pages of emails, first-hand accounts and several post-mortems reveal scattered attempts to bring the pending crisis to the attention of campus leaders, as well as the slow-moving and sometimes ill-footed response in the days following.
Students and faculty say policy tweaks won't change the fear and frustration they faced and a deep-seated distrust of administrators that lingers today.
***
According to an independent report by former federal prosecutor Tim Heaphy, the Virginia State Police told city and university police as early as July 14 that Jason Kessler and others might "hang out Friday before the event in Charlottesville," referring to the eve of the Aug. 12 Unite the Right rally. By Aug. 9, local officials were told the march likely would happen at UVa, according to emails obtained in a public records request.
At 8 p.m. on Aug. 11, university police still believed marchers would do a quick rally at Nameless Field and a fast walk to the Rotunda along University Avenue. The group instead began walking along Newcomb Road to the south side of the Lawn, telling the UVa police officer on duty that they were worried about counter-protesters.
"It was treated like a free-speech event, not like an event in which people who hate each other would want to fight," Heaphy said when he delivered the report. "A soft response from the university, and the resulting violence and images of the torches, definitely has an impact."
The lack of intervention set a dangerous tone for the Unite the Right rally the next day, Heaphy said.
Following his report, the university published a statement reiterating its steps to review safety and security measures and to make the Academical Village a "facility," which allows police to restrict which events can occur on the Lawn.
"I guess I'm just curious how a group of anonymous students knew they were coming," student Caroline Bray is seen asking then-UVa President Teresa A. Sullivan in a Facebook Live video on Aug. 20.
"Did you tell us? Did you tell us they were coming?" Sullivan replied. "You know, you've got some responsibility here, too."
***
Clara Carlson, then a rising fourth-year student, had been involved with the activist group UVa Students United for several years, first attracted, she said, to its protests against tuition hikes in 2015. Friends in the group had protested a Ku Klux Klan rally in Charlottesville in July 2017.
Around 6 p.m. on Aug. 11, a friend messaged Carlson that Kessler and Richard Spencer, both graduates of UVa, would be leading a march that evening.
 "I decided to go [to the Rotunda] just after hearing this news, because I knew that it would be important for me to stand up to white supremacists with my friends," she said.
The white supremacists' social media posts weren't a secret, students said. A general call for a counter-protest went out. About two dozen students and community members arrived at the Rotunda steps around 9:30 p.m. To the south, they could hear a roar of "Jews will not replace us!"
Carlson and Bray, who both graduated from UVa in May, stood with a small group of students and community members at the statue of Thomas Jefferson on the Rotunda's North Plaza; by 10 p.m., the white supremacists had surrounded them, pressing tightly, waving torches dangerously close to them and shooting pepper spray.
"It was a lot," Bray said. She closed her eyes as she remembered that evening, a memory, she said, that often resurfaces as she walks the Lawn area.
At a Board of Visitors meeting in December, Bray asked then-UVa Police Chief Michael Gibson why students were not better protected at the Rotunda on Aug. 11.
"I wasn't there, so I don't know the answer," Gibson said.
***
One year later, Jalane Schmidt said she fears university leaders haven't learned anything from their failure to heed her warnings.
On Aug. 11, Schmidt, an associate professor of religious studies at UVa, was across the street at a worship service at St. Paul's Memorial Church. She first knew something was wrong, she said, when she saw then-Mayor Mike Signer's face fall as he read a message on his phone around 9:30 p.m.
Schmidt had seen social media posts about a possible torch march and had warned UVa officials earlier in the day.
"Was the memo not received??" Schmidt emailed the mayor's wife, Emily Blout, when reports began filtering in of students beaten at the Rotunda. Blout responded that she had told "the highest level" at 3 p.m. that day.
Pat Hogan, the university's chief operating officer, had "heard from the mayor," Gibson wrote at 6 p.m. "I believe the mayor is mixing bits of intel but we are checking to be sure."
By 9 p.m., a student leader also had alerted police to the possibility of a rally. She asked if Gibson could share safety information with students.
The situation was being monitored, Gibson responded. Police still believed white supremacists would rally at Nameless Field and walk briefly to the Rotunda.
"We'll see how this plays out," Gibson told outside jurisdictions, which offered aid later.
Schmidt said that throughout that weekend she began to believe the university was faltering under the weight of a history of white supremacy; that a systemic failure to believe warnings from minority students and faculty meant failures would never be fixed; and that police were instead focusing their energy on surveilling activists.
"I teach the history of social movements; I know this intellectually, but to realize they weren't going to trust me …," Schmidt said in an interview, her voice trailing off, "I felt betrayed. I felt anger."
That Saturday, university professors and officials had planned a day of counter-programming and academic discussions about the rise of the alt-right. Provost Tom Katsouleas was scheduled to speak on the "Intolerance of Intolerance."
The event eventually was canceled, but Katsouleas and others have helped to plan an anniversary event for this Saturday called "The Hope that Summons Us." He's encouraging anyone worried about the possibility of violence on the anniversary about the event to consider attending.
"I for one am looking forward to being there," Katsouleas said.
Schmidt said she believes the counter-programming is meant to tell students to avoid potential clashes with white supremacists. Instead, she said, the university should equip students, if they feel so called, to stand up and protest.
 "Why was the First Amendment right of white supremacists held more highly than our right to protest?" she asked. "Would UVa really prefer Nazis gathering uncontested? We stopped them. They splintered. If we'd followed the advice of these policy people, they would have just kept metastasizing."
***
Walt Heinecke, an associate professor of education at UVa, also was at St. Paul's on Aug. 11. An activist ran past him, shouting, "Your students are surrounded by Nazis at the Rotunda!"
At the North Plaza, Heinecke saw Dean of Students Allen Groves, who had been walking the Lawn and Rotunda since hearing reports of a possible march from Sullivan around 8 p.m.
"They've surrounded the students!" Heinecke recalled telling Groves.
"I didn't even know what he meant," Groves said in an interview, until he got closer and saw a dozen counter-protesters trapped between the white supremacists and the Jefferson statue. Running on adrenaline, he said, he pushed his way in and began telling students the situation was unsafe and that he wanted to get them out of there.
That evening, university counsel apparently advised police that white supremacists "could assemble as any other group but torches should not be allowed," according to an email from Capt. Donald McGee of the University Police Department. UVa policy has forbidden open flames on Grounds since 2013.
By 10 p.m., the chants had turned into a shoving match. Mace was sprayed. Groves was hit in the arm by a flung torch. Police declared an unlawful assembly, and then turned the threat of arrest on students, according to multiple accounts.
"It wasn't my first rodeo," said Heinecke, who attended the University of California-Berkeley for his undergraduate degree. "But it was the first time I was in a situation where I feared for my life."
It took eight months for the fog and the fear of that weekend to begin to lift, he said. Prayer, meditation and the support of friends and family got him through, he said, as well as committing himself to anti-racist efforts in Charlottesville and across the country.
Groves said he hasn't faced lingering trauma from that evening, because he didn't feel personally threatened by the white supremacists. Instead, he said, in the year since he's tried to focus on listening to students who were present that evening.
"I can't imagine being a young person of color in that scenario," he said.
***
Later in August, the Black Student Alliance and other minority groups published a list of demands, asking for white supremacists to be banned from Grounds. In September, some of the same students present on Aug. 11 shrouded the Jefferson statue with black fabric, drawing condemnation from Sullivan.
In April, after Kessler appeared several times at UVa's School of Law, calls for no-trespass orders intensified.
So far, only Kessler has specifically received a no-trespass order, and Jim Ryan, who became UVa's president on Aug. 1, said he hasn't yet reviewed the requests to issue such orders to others.
The only white supremacist convicted for actions that evening is Christopher Cantwell, who pleaded guilty last month to two charges of assault for pepper-spraying activists.
Bray said she has been frustrated by people who frame the march and rally as First Amendment activities that had to be protected. Hate speech may be a legal activity, she said, but officials had ample notice that the white supremacists were planning violence.
"It's about the safety of the student body," Carlson agreed.
Despite the apparent cancellation of Kessler's planned anniversary rally in Charlottesville, and the university's plan to close part of the North Plaza this coming weekend, students say they will hold their own sequel counter-protest Saturday.
"We're out here standing up and we're going to continue to say Nazis are not welcome here, whether the university says it or not," Carlson said.
***
Sullivan announced several months before the rally that she would step down on July 31 of this year. Gibson, Hogan and Katsouleas each have retired or announced their retirements; they will be replaced by Tommye Sutton, J.J. Davis and Liz Magill, respectively. UVa also appointed Gloria Graham, a longtime law enforcement officer, to a new safety and security role.
Gibson and McGee did not respond to requests for comment for this story. Hogan and Graham declined to comment and directed questions to a mass community update.
Ryan will have the chance to reshape his cabinet and face any anniversary actions with new safety and security administrators. In remarks to media on his first day in office, he said those officials were still in talks with members of UVa Students United to resolve their request to hold a protest.
Katsouleas said the weekend taught him how to handle free speech actions in a three-fold approach: Is it really a First Amendment activity, or is it domestic terror camouflaged as free speech? Could it be hijacked by others? Have administrators cultivated a trusted network of students and faculty who already know the answers to those questions?
Sullivan maintains that free speech, including by hate groups, should be allowed on university campuses, and that schools should not be heavy-handed with blocking groups.
"I think we should regulate as lightly as possible," Sullivan said in an interview with The Daily Progress toward the end of her presidential tenure. "I think we learned last August that [our free speech policy] was maybe too light, and we needed to have more than we had. We had basically almost no prohibitions at all, and that left us wide open."
She said it was tough to see Nazi emblems and hear chants on Grounds.
"My mother fought the Nazis in World War II," Sullivan said of her mother, Mary Elizabeth Finnegan, a nurse who served in the European theater and at the Nuremberg trials. "I didn't ever think I'd see that in America."