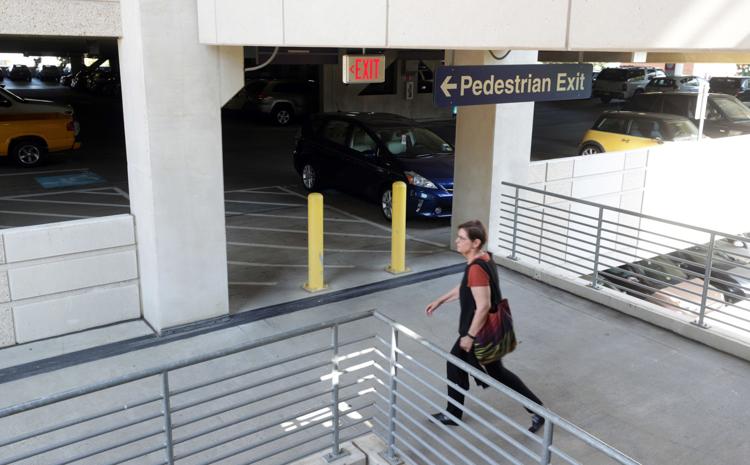 Be it by Uber, Lyft, Zipcar, bus, stroll, pool or pedal, University of Virginia planners are looking for insight from commuters, visitors, vendors and employees on the future of transportation on and around Grounds.
A UVa steering committee wants to hear from anyone who travels through UVa's medical or academic campuses. The committee is looking for ways to meet the parking and transportation needs for the university a decade from now.
The transportation plan has been updated twice in the past decade — in 2007 and 2011. The updates resulted in several changes at the university, including an agreement with the city of Charlottesville and Charlottesville Area Transit for a collaborative bus service, a bike share program on Grounds and inviting Zipcar onto school property for short mid-day trips taken by students and staff.
"It seems like the time is right for another 10-year look," said Rebecca White, director of UVa's Department of Parking and Transportation. "We know that current students seem to show a general delay in car ownership. We also know that student parking permits have dropped about 15 percent since the 2013-2014 school year."
White said the decline in car ownership has resulted in some student parking spaces near Grounds being repurposed for other uses.
"At the Darden School of Business and the law school, we've repurposed a lot of parking spaces that were set aside for commuting students," White said. "Students just weren't buying the permits anymore."
The cost of a student parking permit for 2018 varies depending on the length of the permit and parking lot to be used.
Lots farther from Grounds, including at University Hall, cost $252 for the year. Reserved spaces closer to Grounds cost $540 a year. Permits are also available on a monthly basis.
UVa employees pay the same rates as students for lots farther from Grounds and $588 a year for a reserved space closer to Grounds.
Learning how vehicle ownership and use have changed since the 2011 study could result in modification to existing facilities, changes in current development planning and new transportation options.
It also could define how — or if — future parking garages are built.
"We're looking at the potential for a lot of change with self-driving vehicles, ride-sharing and other options that could impact needs for parking and infrastructure," said Julia Monteith, senior land-use planner in UVa's architect's office.
"There are some schools of thought that floors in parking garages will not need to be more than 5 feet high to accommodate autonomous vehicles," she said. "Others say the floors should be 15 feet high to allow them to be repurposed for other uses. Others say don't even build them."
Although the future is not known, Monteith said there are some positive forces working for the planners. One of those is an effort between Charlottesville, Albemarle County and UVa officials to work together on important issues such as development, economic growth and transportation.
The city has received grant money to study streetscape development on Emmet Street and to improve the streetscape along Fontaine Avenue where the roads meet with UVa Grounds.
The city, county, UVa and the Thomas Jefferson Planning District Commission also are cooperating on regional planning.
Monteith and White said public input is important in determining the future of parking and road systems. That's why the university is asking anyone who visits the school's facilities to comment either at scheduled events or online.
"We're going to ask people about specific modes of travel and issues they may have, and we also want some general comments," White said. "We want to get as balanced of a view of the issues as we can."
A 90-minute open comment session to discuss general issues is scheduled for 11:30 a.m. to 1 p.m. Sept. 6 at the Rotunda's multi-purpose room in the southwest wing.
The UVa Health System will host a similar open house at the Health System Education Resource Center, Room B, from 11:30 a.m. to 12:30 p.m. Sept. 7.
A session to discuss issues surrounding both bicycling and walking on Grounds is scheduled for 2 to 3 p.m. Sept. 6 at Newcomb Hall, Room 481, followed by a transit focus group from 3:30 to 4:30 p.m.
At the Health System, a parking focus group will meet at the Education Resource Center, Room A, from 6:30 to 8 p.m. Sept. 6.
On Sept. 7, a close-in parking focus group session will be held at Newcomb Hall, Room 481, from 8:30 to 9:30 a.m., followed by a focus group meeting from 9:30 to 10:30 a.m. on intercept parking, where commuters park in a distant lot and then take another mode of transportation to their eventual destinations. An alternate transportation/multiple modes group will meet from 11 a.m. to noon at the same location.
People who cannot attend the sessions may offer advice and insight online until Sept. 14 at uva-transportation.com.
"We're trying to hear from people in terms of what's in their way and what it takes for them to carpool or bicycle or take a different form of transportation," White said. "There is a lot of planning going on in the city, the county and at the university, and those plans affect transportation, just as transportation affects those plans."