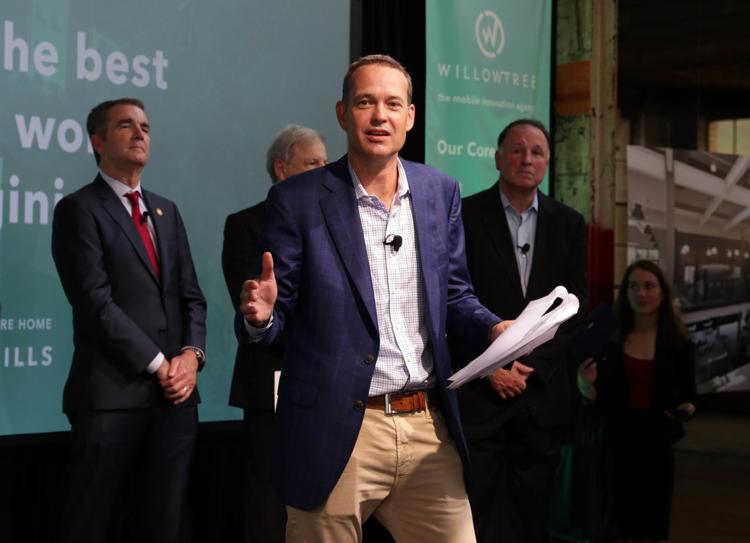 The $25 million deal was sealed with an exchange of small tokens.
Gov. Ralph Northam on Monday presented WillowTree Inc. CEO Tobias Dengel with a used Virginia flag to fly over the company's new headquarters — to be built out of the remains of the historic Woolen Mills factory — while Dengel gave the governor a willow sapling to plant at the state Capitol building.
"Usually, we bring wine, but you all have plenty of wine here in Charlottesville," Northam joked, as he made the official announcement unveiling the state's $2 million in grant funding for the project, which will be matched by $2 million in funds from Albemarle County.
WillowTree, one of the fastest-growing digital companies in the country — and Charlottesville's 21st-largest employer — will spend nearly $21 million to build and lease 85,000 square feet of space at the old textile factory for 10 years.
Hundreds of sweaty WillowTree employees packed into the creaking factory to hear the announcement and see how the 118-year-old relic will be transformed into an elegant home for a 21st-century technology company.
Natural light filtered into the cavernous room through windows made opaque by years of accumulated dust and cobwebs. Vintage string lights hung from rusted steel I-beams overhead. And while well-pressed state and local officials spoke about the power of public-private partnerships, spiders skittered across the hardwood floor and a refrigerator-sized fan squealed while failing to provide any relief from the sweltering temperature inside.
All of that will change over the next 15 months, Dengel said, as builder Branch and Associates erects a "factory of the future." Instead of working with their hands to make uniforms for war, WillowTree employees will "work with our minds and hands to build incredible software experiences" for some of the largest brands in the world, including National Geographic, HBO and Fox Sports.
Over its 10-year lifespan, WillowTree quickly has busted the seams of spaces it has occupied, growing from three employees in 2008 to 276 today. That number includes 73 employees in Durham, North Carolina, where the company extended its roots in 2016 after receiving overtures from Atlanta, Boulder, Denver and Charlottesville.
As part of "Project Cavalier," North Carolina and Durham each committed to give WillowTree as much as $73,500 in state incentives, or $1,500 for each job the company created, according to local reporting at that time.
This time around, WillowTree again had multiple suitors — Albemarle County economic analysts dubbed its recruitment effort "Project Daffodil" — but the company is choosing to stay near Charlottesville, moving just outside the city limits.
According to the Weldon Cooper Center for Public Service at the University of Virginia, which conducted an economic impact analysis for the county, the construction project alone will generate 93 jobs and $6.6 million of "value added" economic activity. (Value added is the most commonly used measure of economic activity and is the concept behind gross domestic product, according to the study.)
Between 2019 and 2025, WillowTree's presence and growth is expected to generate 1,412 area jobs, just 620 of them at the firm itself, according to the Cooper study.
In 2019, the firm's presence is expected to spur $70.5 million of value added economic activity for the Charlottesville metro area; by 2025, that number is expected to grow to $148.6 million, according to the study.
"That's a lot of money for parks and schools and small businesses like dry cleaners," said Roger Johnson, Albemarle's economic development director, noting that the activity will benefit the city, as well as the county.
Looking at a roomful of young coders and creative types — most wearing company T-shirts and jeans — Johnson corrected himself. "Let's say it's money for restaurants and coffee shops, not dry cleaners."
Just before taking a selfie with the governor and the entire crowd, Dengel made it clear that he, too, values each one of those young employees he has so far been able to attract to the company, and he echoed some of the ethos that apparently drove the Charlottesville Woolen Mills company in the 1800s.
An 1881 company report noted that the company's profit would be "promoted by whatever promotes [employees'] self-respect, elevates their character, and cultivates local attachments and the home feeling." The report went on to say that it was impossible to estimate the financial impact of liberal company policies that "shall strengthen our hold on the entire body of employees, and more particularly on those whose value is apt to bring tempting offers from abroad."
Today those liberal policies and benefits include the relaxed dress code, progressive maternity and paternity leave and, at the new campus at least, access to river sports, electric car chargers and an onsite video game room.
Perhaps unwittingly, Dengel channeled the same paternal corporate sentiment in today's vernacular: "If we can create a great work environment, people aren't going to go to UVa and Virginia Tech and [James Madison University] and then go to New York," he said. "They're going to stay here. We are attracting the best and brightest from around the country to come here and to work, and that is a sustainable and competitive advantage, and that's only going to get better as we move into this incredible facility."
Brian Roy, who is leading the redevelopment of the Woolen Mills property, has spent four years seeking approval for this outcome. On Monday, he stood quietly in the back of the room, shaking hands, enjoying a watermelon popsicle and savoring the "extreme relief" of the moment.
Asked what drove him to tackle the ambitious project — which involved historic preservation, flood plains, rezoning, balancing neighborhood interests and more — he replied simply, "Stupidity?"
"I had no idea if I could get from point A to point Z, but I saw a gorgeous building and I thought it was worth a shot."