Home sales in Greene County increased 25 percent and year-end numbers indicated a 13.2 percent gain, according to the Charlottesville Area Association of Realtors (CAAR) 2018 fourth quarter and year-end highlights report.
Matthew Woodson, managing broker of Roy Wheeler Realty in Ruckersville, attributed this growth to new construction in the county.
"Greene County's positive growth as compared to other areas has been from our new construction this year which has been obsolete for the last seven or eight years," Woodson said. "There was a tremendous amount of new construction that padded our numbers. The overwhelming percentage gains that we've seen are due to new construction mainly because of Oxford Hills."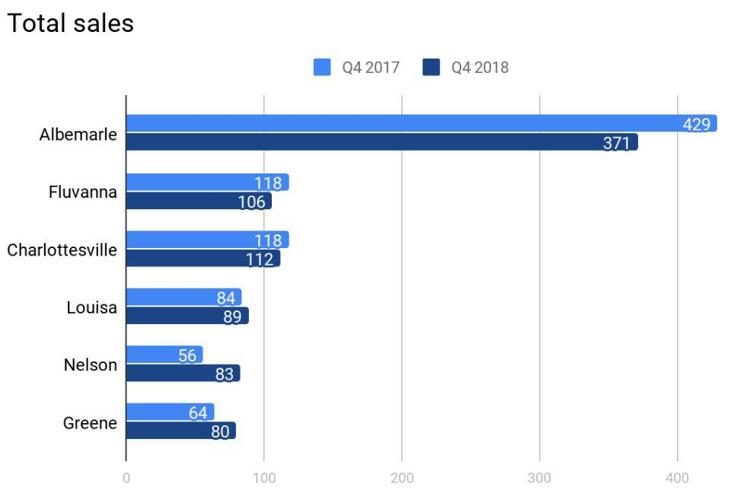 In addition to an increase in home sales and year-end numbers, Greene's median days on the market in the fourth quarter was 40 days – 18 days lower than last year's fourth quarter. Between the city of Charlottesville and counties of Albemarle, Fluvanna, Louisa, Nelson and Greene, Greene saw the largest increase in new listings and pending sales at 20.4 percent and 29.3 percent, respectively.
"These figures indicate that residents recognized an opportunity to use the low inventory to their advantage," CAAR President Tele Jenifer said in the report.
Woodson said the county's percentages may look high because of being a small area.
"We're such a small locality compared to Louisa or Fluvanna or especially Albemarle. We don't have as many home sales in general so any movement in the fourth quarter, even if we're six or seven home sales higher than last year, makes those percentages look much higher than other localities because we're dealing with such a smaller number," he said.
Albemarle, Charlottesville and Fluvanna all saw decreases in home sales in the fourth quarter. Nelson saw the largest gain, up 48 percent from last year, and Louisa saw a 6 percent home sale increase.
The 2017 housing market was marked by renewed optimism fueled by stock market strength, higher wages and a competitive environment for home sales, the report stated.
"The year 2018 delivered a more seasoned prudence toward residential real estate," the report continued. "Home buyers, now steeped in several years of rising prices and low inventory, became more selective in their purchase choices as housing affordability achieved a 10-year low."