Two years after clergy and community members gathered at sunrise to march to downtown Charlottesville, many gathered again at sunset Monday at First Baptist Church for an interfaith service to reflect.
Community members of different faiths gathered for songs, prayer and contemplation about the summer of 2017.
"This truly is a moment of reflection and of reconciliation," said Don Gathers, a deacon and local activist. "We don't want to come together because of what happened to our community two years ago, but in spite of it."
He said it's essential to embrace and love each other.
"It's important that we're there for each other in the spirit of love and harmony and unity," Gathers said. "Our community still faces a tough road ahead, we're only two years out and we're still fighting battles on top of that that continue to complicate the matter."
"It's this type of event, this type of spirit that will pull us through," he said.
The event was part of the Unity Days series to mark the anniversary of the events around Aug. 12, 2017.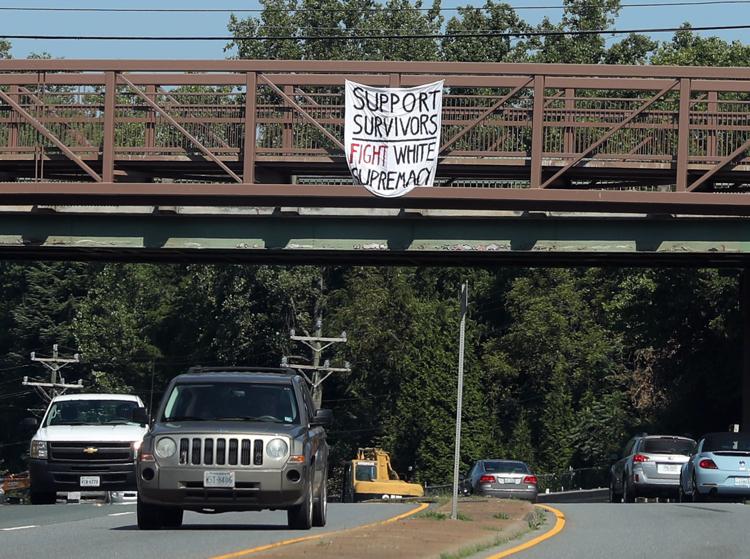 On Monday morning, local activists dropped five banners on bridges and parking garages around the area to highlight the "continuing fight against white supremacy."
In a statement, they said they "hope to shine a light on the white supremacy that still lives within our town."
"The city wants us to forget, to move on; they want to promote unity but don't want to hold themselves accountable," the statement said. "The country would like to paint this as an isolated event, rather than an event that shows exactly how white supremacy manifests when it goes unchecked. But it will continue until we finally acknowledge it for what it is."
In the afternoon, police officers cycled in groups on the Downtown Mall, as they had all weekend. Restaurant patrons gathered for lunch at many of the outdoor patios. The main difference from an average Monday was that the Second and Fourth Street crossings were closed and blocked by trucks.
On Fourth Street, honorarily named Heather Heyer Way, car attack survivors and other community members gathered in a circle to pray, reflect and sing.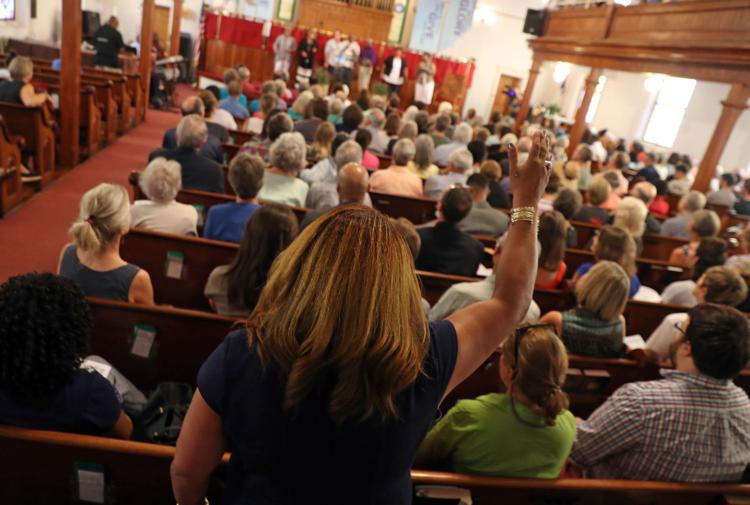 At First Baptist, community members who were in Charlottesville on Aug. 12, 2017, gave testimonies about the effects of that day.
Local activist Tanesha Hudson said changes since the violence haven't always been positive for people of color and that activists of color have often been left behind.
"The effect that it's had on me has been totally different because it's actually pushed me to do hard work and to make the city better," she said.
She said she has been able to do what she has because of other people of color in the community who have come before her.
"Without them laying down the foundation, I wouldn't be able to do what I'm doing today," she said. "I think we're in a position today where the world is watching Charlottesville, so how we recover is going to lay down the blueprint for how the world recovers."
She said the community needs to put action behind conversations and remember not only those who died on Aug. 12, 2017 — Heyer, Virginia State Police Lt. H. Jay Cullen and trooper-pilot Berke M.M. Bates — but also those who were hurt physically and mentally.
The Rev. Jill Duffield, editor of Presbyterian Outlook, talked about her time in South Carolina and said that, after she moved to Charlottesville, she was connected with the Clergy Collective in the summer of 2017.
"I have to confess that as we made plans, I thought some of our group were sort of alarmist about the potential for violence," she said. "How utterly sinful of me."
She said she went to the sunrise worship service at First Baptist and was moved and energized, and she marched, went to First Methodist and she was shocked.
"I had the privilege of being shocked," Duffield said. "I had the luxury of not being subjected to the daily threat of violence or centuries-long structural discrimination codified in policy and enforced by terror."
She said she owed an apology to many. It took Aug. 12, 2017, she said, for her to see the truth of our history and reality of our present.
"I am truly sorry and I humbly repent, and that means working for real change — personal, systemic and structural — in every arena of our life together until that day when truly we are one beloved community with liberty and justice, and not just equality, but equity for all," Duffield said.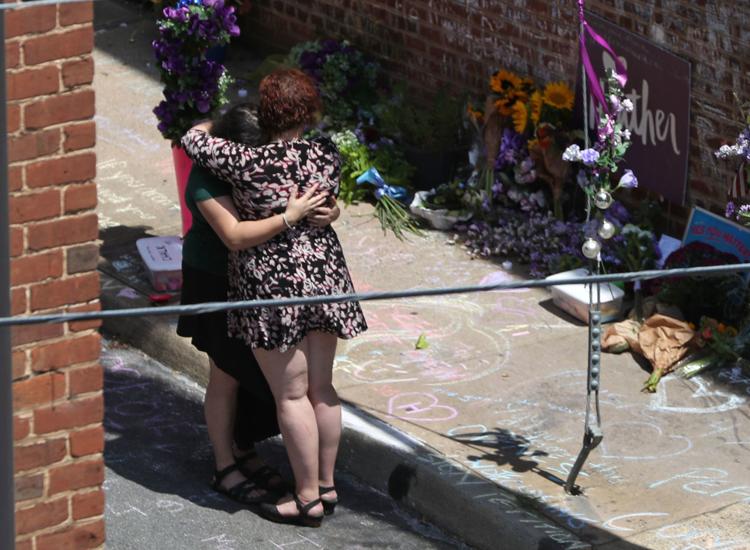 Courtney Commander and Marissa Blair, survivors of the car attack and friends of Heyer, were not going to speak, but they ultimately went before the crowd.
Blair said Monday had been a lot harder than she expected.
"We were there with Heather that day, and for me and Courtney I know Aug. 12 is a lot about Heather and Heather's death, and Heather's passing and what Heather stood for, but I know for a lot of other people that's not exactly what Aug. 12 is about — it didn't start with Aug. 12 and it won't end with Aug. 12," she said.
She said she wanted to talk about love and being there for each other.
"What I want you guys to take away from this today is love, is to choose love ... even though people may be hateful toward you or hateful toward our ideals, you literally have to love the hell out of people," she said.
Be kind, be gentle, Blair said, as many don't know what anybody else is going through.
"What I want everybody to remember is we're all facing our own battles, we're all going through our own wars and we're in this together. Community helps us and community makes us stronger," she said.
"Just please love and don't hate, because if we hate, we're like them," Blair said. "If we love, we bring ourselves together."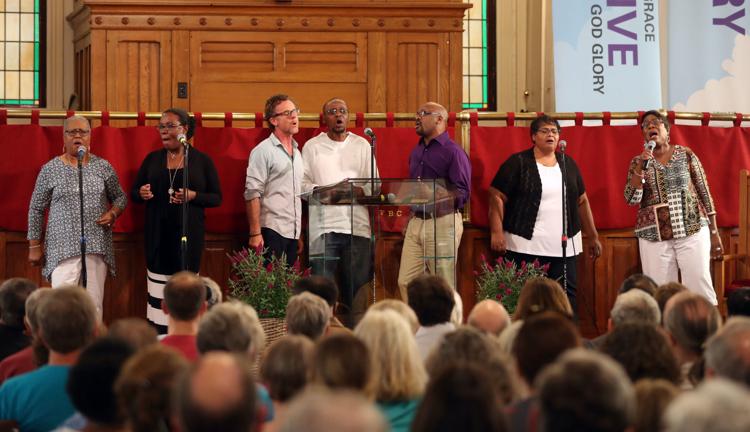 Rabbi Tom Gutherz, of Congregation Beth Israel, said that, since that weekend two years ago, many Jewish people needed to have conversations with children and friends about why some people hate Jewish people so much.
"The Unite the Right rally here was a public coming-out ceremony for a movement that had been steadily organizing itself in the corners of the dark web, where Jew hatred is glorified and amplified, with the names of Jewish journalists, activities and public figures are bracketed with three parentheses to signify the Jew," he said.
He said he maybe didn't pay attention to this before Aug.12.
"We didn't fully understand why the people who came here, ostensibly, to protest the removal of civil war statues were chanting, 'Jews will not replace us,'" Gutherz said.
For many of the "alt-right," he said, hatred of Jewish people is a part of the glue that holds together the white supremacist's world view.
"Part of the change for me on Aug. 12 was the realization that I needed to change my way of thinking about racism in this country," Gutherz said.
He said the community has a responsibility to be vigilant about racism and ethnic injustice, to understand how it works, to look for ways to dismantle it and "to be a resistor and not a bystander."
"I believe that we will find our way forward together," he said.