The McIntire Botanical Garden is moving into its next phase of design.
The organization hosted a community event Thursday to announce $500,000 of donations over the past 13 months, introduce its first executive director, Jill Trischman-Marks, and provide updates on the garden's progress to a crowd of about 100 people at CitySpace.
The organization, formed in 2008, wants to build the garden on 8.5 acres near the intersection of Melbourne Road and the John W. Warner Parkway.
Trischman-Marks said $600,000 is needed for the next level of plans. Those plans can be used for pricing before construction documents are finalized, according to Eugene Ryang, principal of Water Street Studio, which worked on the master plan with designer Mikyoung Kim.
There's no timeline on the next phase.
"It's a slow process," Ryang said.
Trischman-Marks said the organization still needs "several hundreds of thousands of dollars" to reach the next goal.
The garden will be sited on a former golf course.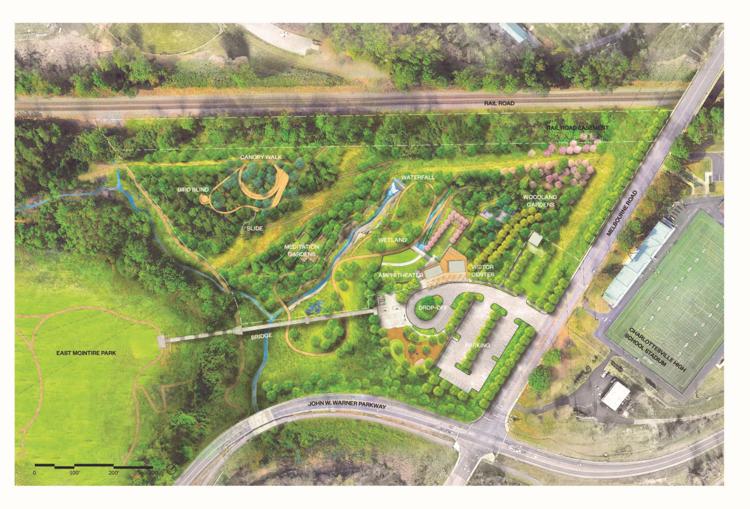 In 2015, the garden's board and the city signed a memorandum of agreement on the garden. The city will administer and coordinate construction of the site, build pedestrian and bicycle trails and perform basic horticultural maintenance, subject to available funding.
The city is also supposed to construct a parking area, restrooms and a bridge that will connect the garden to the rest of McIntire Park.
The agreement places the city's parks and recreation director on the botanical garden board.
The garden's board is responsible for funding the garden design and development, including designing the visitors center/education building, securing construction documents and overseeing and documenting the horticultural and research collections. The board also will provide a tour guide and educational programs and will promote the garden and its activities.
When finished, the garden will feature native and site-adapted trees, shrubs and perennial flowers.
It also will include forest areas, trails, a pond, a restored stream, lawn amphitheater, pavilion and visitors center/education building.
"Once it's built, just like any other park in Charlottesville, it will be free and accessible to all," Trischman-Marks said.
At Thursday's event, Brian Daly, director of the city's Department of Parks and Recreation, announced that the garden's master plan received an award this year for design and analysis from the American Society of Landscape Architects.
"It's very, very, very well done," he said.
Trischman-Marks said the next planned fundraiser will be the Ian Robinson Legacy Lectureship on March 8.