Sandra Wicks Lewis had goosebumps being back at Venable Elementary on Sunday — 60 years to the day since she and eight other students walked up the school's steps and integrated it.
"The older you get, the more you realize how that event really turned the tide in terms of racial justice in the country, and not just us but similar events all over the country," she said. "These were the kind of things that took the United States to another level in terms of achieving real racial integration."
On Sept. 8, 1959, three other students walked into Lane High School, ending a four-year court battle to desegregate the city school system that began the year after the Supreme Court's 1954 decision in Brown v. Board of Education, which ruled school segregation unconstitutional.
To mark the 60th anniversary, Lewis, Ronald Woodfolk, Don Martin and Charles Alexander gathered at Venable and spoke with members of the local media about their experience as members of the Charlottesville Twelve.
"All I wanted was an education," said Woodfolk, who was 12 years old when he started seventh-grade at Venable.
For Woodfolk, going to Venable was not a pleasant experience, and returning to the school brought back some of those memories. He said he felt isolated and uncomfortable as a student at Venable.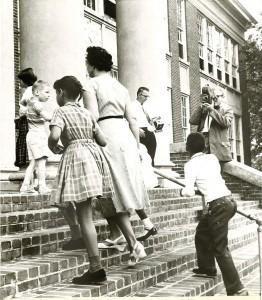 Lewis said she was apprehensive but not afraid to go to Venable because she "wasn't old enough to grasp what could've happened."
"I was too young to know the history that preceded us coming," she said.
Her parents were aware, though, and she's proud they took the step to enroll her in Venable.
"They knew that in this backdrop, they were willing to take that step to achieve integration in the schools," she said.
The parents of the 12 students were essential to desegregation, Alexander said.
"If not for the parents, there wouldn't be the Charlottesville Twelve," he said.
Alexander said the 60th year of integration of Charlottesville schools will be marked with a community reception at 11 a.m. Sept. 28 at Buford Middle School. At that event, local nonprofit City Schoolyard Garden will unveil a sundial designed to honor the Charlottesville Twelve.
Last week, the Charlottesville City Council and School Board passed resolutions that honored the 60th anniversary of desegregation, recognized the struggle for equality and proclaimed Sept. 8 as Charlottesville Twelve Day. While the parents fought for integration, Virginia's governor closed Lane and Venable for five months in an effort to prevent it.
When the schools reopened in February 1959, the 12 students went to school in what's now an annex behind Venable. The judge ordered the school system to provide an education to the plaintiffs in the case.
On Sunday, the four adults walked back to the annex, which they said doesn't look much different from 60 years ago.
"The idea was that we wouldn't last very long in this type of situation, but we didn't drop out," said Martin, who was one of three students to integrate Lane.
Lewis said she doesn't remember much from her first days at Venable, but does recall a white girl who introduced herself and invited her to lunch.
"She saved me," Lewis said. "What was I going to do at lunch?"
The first school year wasn't bad, aside from some isolated incidents, Lewis said. One time, a student gave her a note that included the n-word, but she didn't tell anyone about it.
"Because the last thing you want as a fourth-grader is to be different," she said. "You don't want the teacher to make a big deal out of it. You don't want him to get punished."
After 60 years, Lewis said she hopes people won't turn back the clock.
"I think people should learn the history of civil rights and the sacrifices that were made for integration in this country," she said. "We all should take advantage of the opportunities that we have now, but that we are always alert to those who are trying to take that away."