Despite dissatisfaction with overall student achievement, Charlottesville School Board members are confident in the division's direction going forward.
Board members spent more than an hour at their most recent meeting reviewing testing data, enrollment trends, postsecondary plans for the Class of 2019 and other metrics as part of the annual data presentation that followed the release of 2018-19 state test scores. Afterward, many said the division was on the right track and pledged to support schools Superintendent Rosa Atkins.
Board member James Bryant said the division is starting to put programs in place to enable children of color to be on a level playing field with their peers.
"We are moving in the right direction," he said.
However, those changes won't happen overnight, cautioned Jennifer McKeever, board chairwoman.
During public comment, community members and School Board candidates called on the board to address student performance on the state Standards of Learning exams and highlighted achievement gaps among student groups. They also asked about the division's plans for Walker and Buford — both of which were accredited with conditions for this school year.
"I can say with confidence that we've made great strides in this school system, but I know we still have a way to go," board member Juandiego Wade said, adding that the issues are complex but can be addressed as a community.
In 2018-19, student pass rates across the division were stagnant, according to the results released in August. Math was the only subject in which pass rates improved from the 2017-18 school year. Additionally, achievement gaps among student groups persist.
Students take state assessments in reading, writing, math, science and social studies.
Three student groups — those with disabilities, those from low-income families and black students — did not meet the state benchmark score for accreditation in reading. In math, black students and those with disabilities on the whole did not meet the benchmark score.
The accreditation score takes into account individual student improvement and pass rates on the state Standards of Learning exams.
Echoing other board members, Atkins said near the end of the meeting that reducing students to one data point does them a disservice.
"That is an important aspect of their learning, but it is one measure," she said. "… In literacy, we will not deny that our students need to make more progress. But we also will not deny that our students are very complex, and that they have made incredible progress. They have great potential, and they are not defined by the one test score."
In reading, 80% of the division's students hit the benchmark and 81% did so in math. Division officials highlighted the gains students made, even if they didn't pass the test, during the presentation.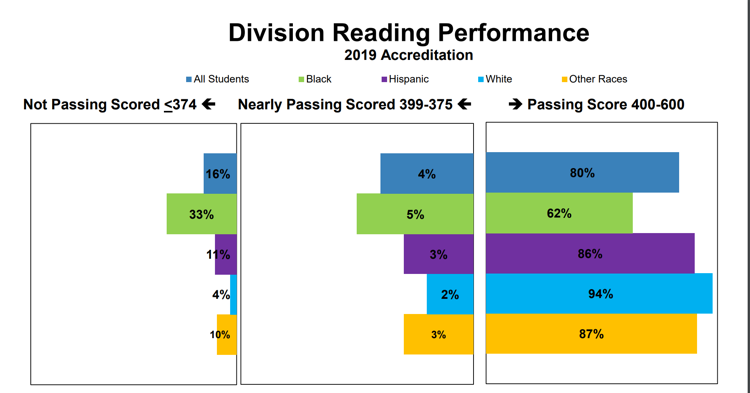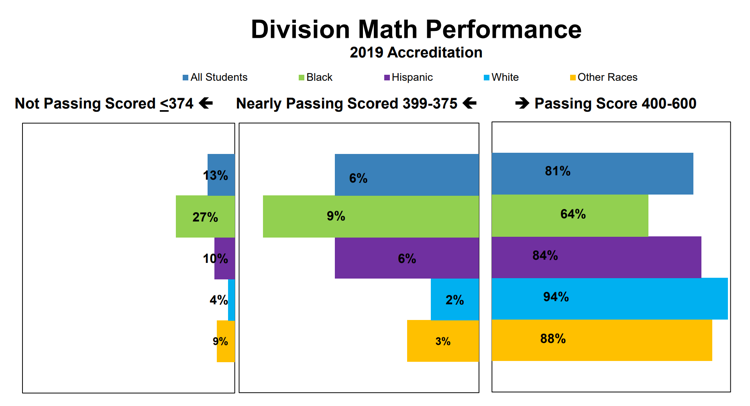 Division staff also broke down the enrollment in world language classes at Walker, Buford and Charlottesville High School. Black students make up nearly 20% of the total enrollment in German, Latin and Chinese.
"And that is something for us to celebrate," Atkins said. "We anticipate the more we speak about diversity and the more we talk to our students about what their accomplishments are, that's motivation for the students who are coming behind them to also know that they can accomplish this and even more in our school system."
The meeting was the first time division staff members have discussed last year's scores at length.
Atkins spent the first several minutes of the presentation highlighting the socio-economic differences among different schools and how the state has increased the rigor of the exams three times in the last decade. Another state change made the reading test computer adaptive, which means that how a student answers one question determines the next question they'll get.
"I would also remind our community what our schools, our teachers and our entire division went through last year," she said. "Last year was a traumatic year for everyone in our school division and in our community, and I want to applaud our teachers, our principles and our staff for how they worked diligently to make sure that they kept teaching and learning the focus in the classrooms. But last year, with our community forums, with The New York Times article and with all of the incidents that were going on in our school division, there was a lot that impacted what was going on in our classrooms."
Curriculum redesign
Charlottesville will be embarking on a curriculum redesign to better align classroom lessons with the state standards, staff members said.
Gertrude Ivory, the division's former associate superintendent of curriculum and instruction, has returned to the school system to assist with the effort while a division employee is on leave.
"Because we want equitable outcomes for all of our students, we have to make sure that the instructional program provides the students with rigor," she said. "… The goal is to ensure that all students have access to high-quality, standards-aligned, rigorous lessons every day."
Atkins said the redesign can help more elementary students with disabilities pass SOL tests.
"This is an area where we have struggled in the past and continue to struggle," she said.
The first phase of the plan includes creating standards-based lesson plans for grades preschool through 12th and helping teachers to deliver those lesson plans.
"We're teaching to the standards, of course," Ivory said. "We are not teaching to the test."
The initial focus on the redesign is literacy from third to eighth grade, science from third to eighth grade and math from kindergarten to fourth grade.
"Standards-based lessons are going to make all the difference," McKeever said.