The performing arts give communities the chance to come together, both on the stage and in the audience.
David Becker, who teaches drama at Charlottesville High School, said he believes theatrical productions done by his students for the local community should give as many people in both parties a chance to see not only themselves portrayed within the works, but to experience works that showcase and empower different people.
"When I got here, this theater program did not address every student within the building, and I immediately saw that as something that needed to change," he said.
Becker and Madeline Michel, who teaches drama at Monticello High School, have worked for years to create more inclusive environments for students by broadening the variety of plays they put on each year.
This spring, Charlottesville High will showcase "A Raisin in the Sun" and Monticello High will feature "In the Heights."
Those selections aim to create a space for as many students to participate as possible and who might not have ever joined in the first place.
"A Raisin in the Sun," which premieres Thursday, is a drama about a black family's experiences in a Chicago neighborhood. It debuted in the 1950s.
"In the Heights" opens next month. Created by the acclaimed Lin-Manuel Miranda, the musical is set in the predominantly Dominican-American neighborhood of Washington Heights in New York City.
Michel is directing "In the Heights" for the second time because she knows it brings not only an eclectic cast and crew together, but a diverse audience, as well.
"It's the one show that I've ever seen that brings together all subgroups of the school because it's a hip-hop musical, so it appeals to everyone," she said. "It's got great music, a great story, very uplifting, and once people see it, they'll wonder why I don't do it every single year."
Both productions, like others previously selected at these schools, feature a range of characters that have been successful in broadening the interest and participation from students who may have felt left out, or even disenfranchised.
"I think, among other things, there's been a paradigm shift, there's been a shift of what is considered meaningful and speaks to everyone in a way that gives everyone a sense of voice and empowerment," Becker said.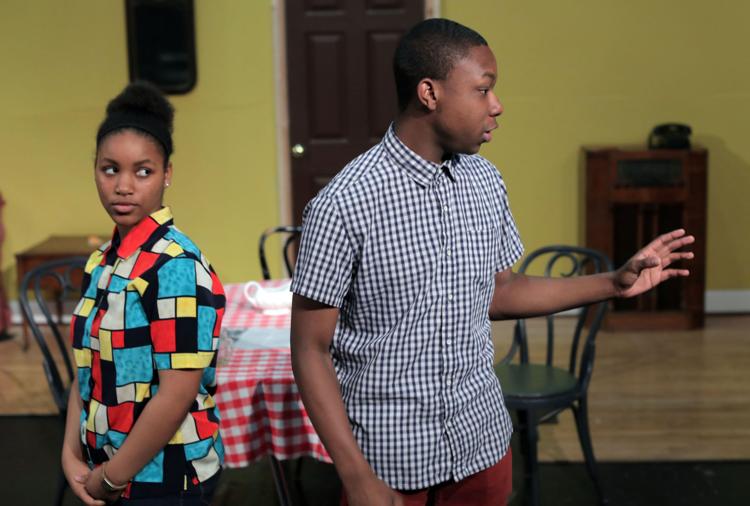 Becker said he noticed an increase in his class enrollment when the productions started to feature more characters and storylines that spoke to more students at the school.
Ismael Moumbossy, a CHS senior who plays Joseph Asagai in "A Raisin in the Sun," said he couldn't see himself being in any of his school's productions had Becker not picked a variety of productions where he felt included.
"He tries to bring in people that aren't usually involved," he said. "He tries to get everyone to at least have a role, whether it's in the play or with tech."
Moumbossy said the same applies to the audience.
"More people can enjoy it, like, not just one group of people, like all types of people in the audience; they get to enjoy what we're trying to show them," he said.
Abi Lainez, a sophomore who plays Vanessa in "In the Heights," said Monticello High's drama department doesn't just pick shows because they think it will draw the largest crowd, but because they show the experiences and lives of other people and cultures.
"Our productions show a little window to people to peek through and see this is what we're about, this is how our life is or has been," she said. "It doesn't have to be specifically the actors in the production, but this is like showing the community and showing our school a little piece of our culture, a little piece of our life."
Becker said it's more important now than ever to create a sense of belonging and acceptance in drama for students and audiences.
"The impact of playing to an audience and being a character that has the ability to transform its audience or to give its audience a new perspective — it's a catalyst for things that can then be the next step for these young people," he said.
Trevon Jackson, a junior who plays the role of Walter Lee Younger in "A Raisin in the Sun," said this type of production has the potential to bring people together in the community, which is especially important for older audience members who might not have seen this kind of play when they went to high school.
"If and when they see this show, they're going to probably think about how, when they were our age, there was like no way that somebody would've done this at their high school," he said, "and it's beautiful how people come together, put aside their differences and put together a nice show."
Donations at one of the productions of "In the Heights" will go toward Creciendo Juntos and Sin Barreras, two local organizations that work to assist immigrant families, primarily Hispanic, in the area.
"This show is a tribute to some of our most vulnerable but our most resilient citizens, and it's a tribute to everything that they've had to go through to get here and to get where they are, and we love them and we want to keep them here," Michel said.
Dan Katz, chairman of the board for Creciendo Juntos, said he's thrilled that the drama department at Monticello High School is contributing to the organizations.
"Most importantly, I think Madeline's effort to use art as a voice for honest dialogue is especially important in today's increasingly polarized [political] climate," he said.
Proceeds from one of the productions of "A Raisin in the Sun" will go toward a charity, Becker said. The details are still being worked out.
Charlottesville High's production debuts at 7 p.m. Thursday, with a second showing at 8 p.m. Friday. Tickets are $10 for adults and $5 for students.
"This show is extremely difficult for adults — now imagine high-schoolers trying to do it," Jackson said. "I have faith in my castmates that we're going to pull it together and it's going to be a beautiful show. So come see it."
Monticello High's production will premiere at 7 p.m. May 11, with several showings throughout the weekend. Admission to the production at 2 p.m. May 13 is by donation only, which will be given to the two organizations.