RICHMOND — The Virginia Department of Health reported Tuesday that the statewide total for COVID-19 cases is 58,994 — an increase of 529 from the 58,465 reported Monday.
The 58,994 cases consist of 56,452 confirmed cases and 2,542 probable cases. There are 1,645 COVID-19 deaths in Virginia — 1,542 confirmed and 103 probable.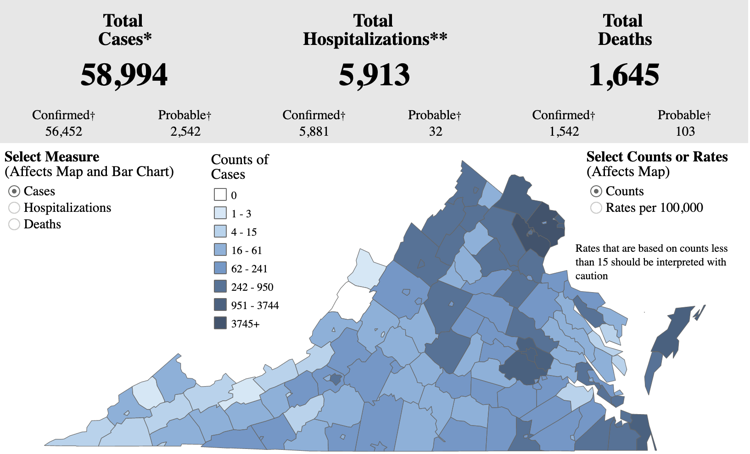 The VDH defines probable COVID-19 cases as people who are symptomatic with a known exposure to COVID-19, but whose cases have not been confirmed with a positive test.
Across the Thomas Jefferson Health District, 20 new cases have been reported, for a total of 819 cases across the district.
Albemarle County continues to have the highest case count, with 352 reported cases. Nelson County is the only locality within the TJHD that has had zero reported fatalities or hospitalizations.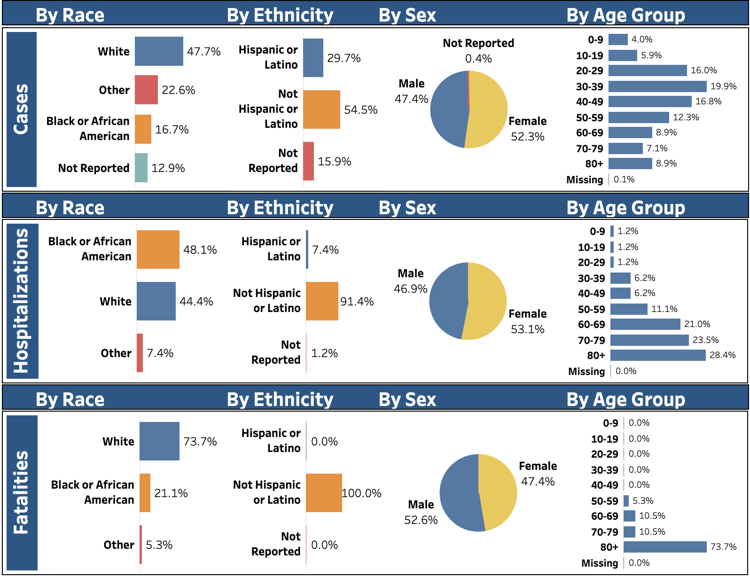 A majority of the cases (432) diagnosed within the TJHD have been in people between the ages of 20 and 49 (52.7%).
Of those cases, 294 are in people between the ages of 20-39.
The largest group of people being diagnosed in the TJHD are people between the ages of 30-39 (19.9%).
Meanwhile, 37.2% of the region's cases have been diagnosed in people between the ages of 50 and 80+.
The majority of the TJHD's 19 fatalities have been in people 80 and older (73.7%).
Bath County remains the only locality in Virginia without any cases.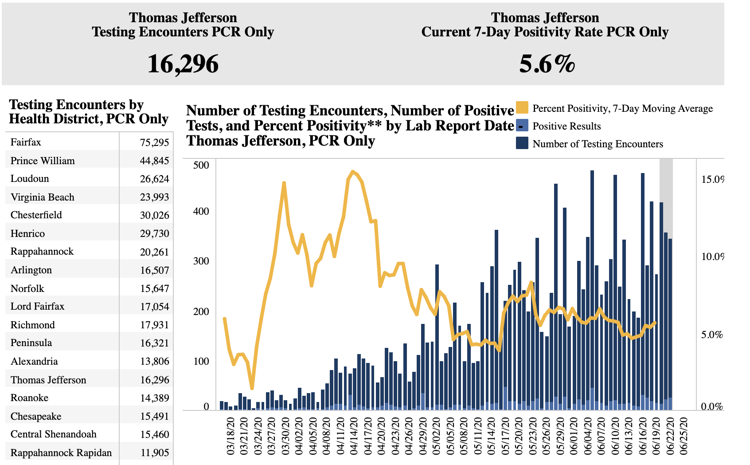 Testing across the TJHD has continued to rise. The current seven-day positivity rate for PCR tests sits at 5.6%. In the health district, 16,296 PCR testing encounters have been reported.
A PCR test detects the presence of active virus particles in a patient, while a serological test looks for the presence of antibodies in a patient.
When serological tests are included in the TJHD's counts, the current seven-day positivity rate sits at 5.0%, with 18,352 testing encounters performed.
The VDH said there are 433 outbreaks in the state; 231 in long-term care facilities.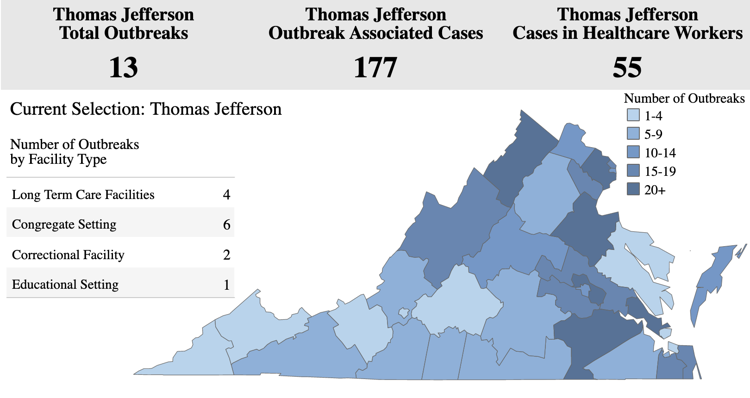 Locally, there are still 13 outbreaks that have been reported to TJHD authorities. Six outbreaks have been reported in congregate settings, four have been reported in long-term care facilities, two have been reported in correctional facilities and one outbreak has been reported in an educational setting.
Of the region's 13 outbreaks, 177 cases are outbreak-associated. 55 cases have been reported in healthcare workers in the TJHD.
State health officials have said there's a lag in the reporting of statewide numbers on the VDH website. Figures on the website might not include cases or deaths reported by localities or local health districts.