Good afternoon and welcome to the latest edition of the Cheat Sheet! The new school year is underway, and fall is near. I'm looking forward to picking some apples and learning how to make pie. What stories should I be looking into? What schools should I be visiting?
Want to receive this newsletter in your inbox? Subscribe here. Want more Daily Progress? You can also get full digital access to The Daily Progress at $3.95 per month!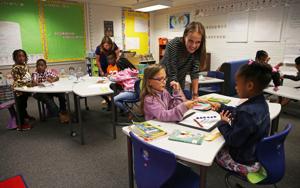 ZACK WAJSGRAS/THE DAILY PROGRESS Melanie Johnson (back left) and Tess Krovetz (front right) teach a second grade class at Jackson Via Elementary on Thursday. Charlottesville schools have made changes to the program and are determining new metrics for success.
City schools embark on a new quest
Gifted education is changing in Charlottesville City Schools. The gifted teachers — now called gifted resource teachers — are working with all students in their classrooms as opposed to pulling out students in the gifted program for separate instruction. 
I checked in with the division and stopped by a classroom to see how the new model is working. 
Two weeks into the new school year, division officials are encouraged by what they are seeing. Moving forward, they will look to the experiences of students and their attitude to rigor as gauges of how the new model is working. Ultimately, the goal is to increase student achievement in math and reading.
"Our new gifted model will not be the sole determinant, but it will be a part of the tapestry and the environment and culture we are creating in order to impact student achievement," schools Superintendent Rosa Atkins told me.
The first year of implementation is a work in progress. Right now, the gifted teachers are working on a schedule that puts them in each elementary school classroom twice a week — once for English and Math.
---
Quotable 
"I feel very strongly that's a misuse of county funds," said board member Steve Koleszar about a $2 million plan to install electronic locks and a camera buzz-in system at all county schools. His motion to eliminate the plan was voted down as a School Board meeting last month.
Stat of the Month
13,979 — How many students are attending Albemarle County this school year, as of Sept. 4. That's 246 students more than what officials projected. In the city schools, enrollment dipped slightly, matching projections.
Election 2019
The election for local School Boards is gearing up, and I've been speaking with some candidates about their priorities.