---
The Cheat Sheet
---
Welcome to Week 7 of The Cheat Sheet!
School is officially out for the summer, and more than 1,000 students graduated this spring.
What a year it has been! Local school systems banned Confederate imagery and other hate symbols; moved forward (and one case, backtracked) on construction projects; and refocused their efforts to improve equity. Matt Haas officially took over as superintendent this school year. Charlotteville students walked out to push the district to address equity issues.
I've learned a lot about our local schools over the last seven months, and I'm looking forward to learning a lot more.
Now, the news.
Freshman Seminar wraps up first year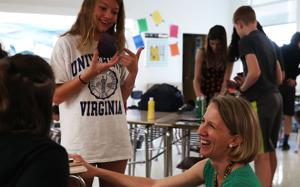 Teacher Meghan Streit speaks with students during a freshman seminar section at Monticello High School.
ZACK WAJSGRAS/THE DAILY PROGRESS
Albemarle County rolled out a new graduation requirement this school year, and I checked in with students and teachers to see how it went.
The freshman seminar course is aimed at helping to prepare students for success later in high school and to develop their social and emotional skills and to set academic and career goals.
"Most of the class is focusing on really important aspects of life that are very, very useful in our life that academic classes fail to focus on," said Calvin Kellams, a freshman in the class.
The first year was a learning experience for students and teachers, who tweaked and refined the program in response to feedback and their own experiences. Work is now underway for a Freshman Seminar 2.0 next year.
---
Equity gaps persist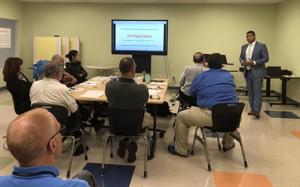 Ben Allen (far right), assistant principal of Cale Elementary School, presents the 2019 Equity Report to the Albemarle County School Board during its retreat Friday.
KATHERINE KNOTT/THE DAILY PROGRESS
An updated equity report for Albemarle County schools shows little progress made in the past two school years — not including the most recent one — to close opportunity, equity and achievement gaps.
"From third grade reading to the likelihood of attending college, our community fails to support students of color and those in poverty to achieve better than their peers in the state," according to a draft of the report.
Opportunity gaps are reflected in the enrollment of the division's high school academies.
White students made up 72% of the Math, Engineering and Science Academy at Albemarle High School, compared with being 56% of AHS' total population in 2017-18. Black and Hispanic students, combined, made up 5% of the academy's enrollment.
After the presentation at last week's retreat, School Board members wondered why students aren't doing better.
"I just want to know why we are so bad," board member Kate Acuff said.
Division staff already had left at that point in the retreat, so they didn't receive immediate answers.
---
Stat of the Week
50% — In Charlottesville City Schools, half of the new teachers hired so far have been candidates of color. This puts the division on a good track to address its top equity priority — hiring and supporting teachers of color.
From HR:

Lisa "DeeDee" Jones
SUBMITTED PHOTO
After 12 years leading Cale Elementary, principal Lisa "DeeDee" Jones is leaving to join the Albemarle County school division's alternative learning program.
During her tenure at Cale, Jones began the school's Spanish language immersion program, the division's first and only such program. The staff school-wide also adopted culturally responsive teaching strategies and practices.
"I am so proud of the accomplishments of our school," Jones wrote in a note to the Cale community. "I truly have been fortunate to have worked with so many talented teachers who taught me so much along the way. The foundation of this community and the dedication of our staff is what makes Cale so extraordinary."
Something Fun!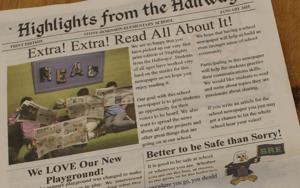 Stone-Robinson Elementary students created three issues of Highlights from the Hallways this year. The first two editions are pictured here.
KATHERINE KNOTT/THE DAILY PROGRESS
Stone-Robinson students are making their voices heard in the school's new newspaper. A group of students from across grade levels have published three issues of "Highlights from the Hallways."
Recent editions include memes, fiction pieces, an interview with Williams, articles about bullying and a first-person perspective on P.E. class.  Students also want the newspaper to be helpful. Scattered throughout the June edition are summer safety tips, ideas for activities and reading reminders.
"Seeing your article being published is really exciting," said one student.
My story on these awesome kids is here.
---
News Roundup
In and Around The Commonwealth
Tuesday was Election Day in Virginia. Recaps of the local races can be found at DailyProgress.com.
Early Decision is returning to the University of Virginia in response to demand from high school students, according to officials. Ruth Serven Smith has more.
Virginia Tech is expecting 1,000 more students than it expected for its incoming freshman class. The university is offering students money to delay their start and looking at other options to accommodate the extra freshmen. Robby Korth with The Roanoke Times has more.
Norfolk's superintendent, Melinda Boone, is leaving after 3.5 years on the job. In the last year, there's been "conspicuous tension" between Boone and some School Board members. Sara Gregory at the Virginian-Pilot has more on the shake-up.
---
The Weeks Ahead
Albemarle and Charlottesville school boards meet this week. Superintendent Rosa Atkins is expected to present a new model of gifted education during the city meeting.

The committee deciding whether to rename Cale Elementary will have a public hearing at 6 p.m. next Tuesday at Albemarle High School.

Any fun summer camps I should check out? Let me know at kknott@dailyprogress.com.
And that's a wrap on the latest issue. Any questions, thoughts or concerns? Send them my way to kknott@dailyprogress.com. This newsletter is for you, so let's make it great! 
---
Housekeeping
Like what you read? Share with this newsletter with a friend, coworker, teacher or your neighbor!

Want to read more Daily Progress? Subscribe to the newspaper here.

Are you a teacher in our area? Did you know that we've partnered with UVa as a Newspapers in Education partner for your classrooms? The first 200 teachers to sign up for the current school year will receive their classroom subscription for free! To sign up, check out this link.