Good afternoon and welcome to the latest edition of the Cheat Sheet!
The holiday season means hot chocolate, Christmas lights and a mad rush to finish stories before the new year. Oh, and maybe snow? 
I'll be running around town this week to interview lots of people but plan to find some to check out Albemarle's new high school center. There's an open house tonight and Wednesday at 6:30 p.m.
We're also one issue away from the end of the year. What are your 2019 highlights for local schools? Email me at kknott@dailyprogress.com. 
---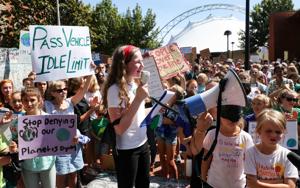 Seventh-grade activist and rally organizer Gudrun Campbell speaks to students and adults who attended the Charlottesville Youth Climate Strike at the Free Speech Wall in September.
DAILY PROGRESS FILE
Local seventh-grader brings more urgency to climate fight
Gudrun Campbell, the one with the megaphone, wants to stop climate change. She's organized several local climate strikes to draw attention to the issue and to demand action from adults in positions of power. 
The seventh-grader at Buford Middle School is wrapping up her first year of climate activism, and I checked in with her to see what motivates her and to discuss her work. Safe to say, she's doing a lot more in seventh grade than I did.  
Her interest in the issue intensified after a class lesson about teen activism that included a video of Greta Thunberg, a Swedish teenager, speaking about climate change at a conference in Davos, Switzerland.
"I went home and I watched every speech she ever gave," she said. "I think that's when the urgency of the issue really hit me. I realized that there is this 16-year-old who is not going to school, giving speeches all over the world because she cares so much about this, and it occurred to me that I wasn't doing enough to stop climate change."
Local officials said her work and the activism of hundreds of area children brings more urgency to the issue. 
"It's both inspiring but also a stark wake-up call," said Michael Payne, who was elected to Charlottesville's City Council in November.
Gudrun's not just a climate activist. In her not-so-abundant free time, she plays the cello, practices Jiu Jitsu and does her school work. To repeat, that's what she does for fun. 
"As a kid in activism, I think it's important to remember that it was never supposed to be your job to fix this," she told me. "... But also, if it's an issue you care about, then it's really great to make a change, because we need a change."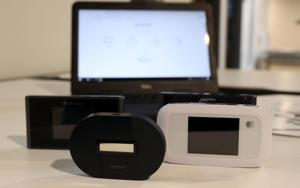 Albemarle County Schools plans to use wireless hotspot devices to connect more students from their homes.
ANDREW SHURTLEFF/ THE DAILY PROGRESS
More internet, more problems
A much-heralded plan in Albemarle County schools to bring the internet to more students has only connected 100 households in the five years it has been up and running. 
So now, the division is switching gears. The new approach will involve hotspots, which use cell signals to create a WiFi signal, and other commercial partnerships. The hotspots could be in students' hands by the end of this school year.
"The goal is that we will get devices into students' hands much faster than we've been able to," Christine Diggs, chief technology officer for the county schools.
The former plan, Diggs said, moved much slower than anticipated and other challenges popped up. 
A division analysis estimated that 6% of county students — about 840 — do not have any access to the internet. The hotspots would tap nearby cell signals to connect student laptops to the internet. The program is starting with middle and high school students.