Hello friends, it's June 24!
Welcome to the last week of the fiscal year. That's right, nerds, it's almost time to ring in (fiscal) 2020, which starts on July 1.
The talk of the city right now is a felony indictment against former Clerk of Council Paige Rice. But you'll see more about that below.
Also this week, we bring back the Overheard In Chambers segment, featuring a zinger from Mayor Nikuyah Walker. This time, we have VIDEO *gasp*.
This edition is packed with politics, government action and shenanigans. 
My sources say we've hit more than 500 subscribers! Teamwork makes the dream work, so spread the newsletter to everyone you know and even some people you don't.
---
Mysteries abound as former clerk faces felony charges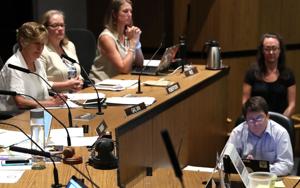 Then-Clerk of Council Paige Rice (center) and Charlottesville spokesman Brian Wheeler (right) listen during a July 2018 City Council meeting.
Daily Progress file
We've been closely following the case of former Clerk of Council Paige Rice, who faces felony embezzlement charges and up to 20 years in jail for allegedly not returning an iPhone X and Apple Watch she got as a city employee.
So many aspects of this case remain unclear, but here's what we know:
Rice was indicted June 7 on a felony embezzlement charge and turned herself in to the courts on June 13. 
Rice joined the city as clerk of council in 2010 and tendered her resignation on Sept. 12. Her last working day was Sept. 21 because she used her remaining time off before officially leaving on Oct. 5. At the time, no reason for her departure was given.
Spokesman Brian Wheeler was responsible for ensuring that she returned the devices.
Human Resources Director Galloway Beck has said it's "not normal" for employees to have an agreement allowing them to keep or purchase their city-issued equipment when they depart.
The charges for Rice's devices were paid through the last day of her employment, but don't appear on the City Council wireless statement starting in mid-October.
A laundry list of people are declining to comment on the case or not returning calls, including Mayor Nikuyah Waker, Councilors Wes Bellamy, Mike Signer, Kathy Galvin and Heather Hill, Commonwealth's Attorney Joe Platania and Rice's husband, Joe, who is the city's deputy director of communications. 
Rice, who is free on a $2,500 bond, is scheduled for a status hearing Aug. 19.
---
Jefferson's birthday set to be nixed as city holiday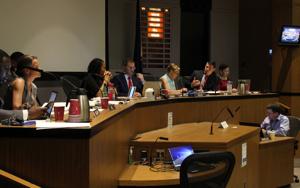 City Attorney John Blair (third from right) speaks during the Charlottesville City Council meeting on Monday, June 17, 2019.
Nolan Stout/The Daily Progress
Charlottesville City Council sparred over the city's celebration of Thomas Jefferson before taking the initial step to eliminate his birthday as a paid holiday.
Councilors completed a first reading of a measure to replace the time off slated for the third president's birthday, April 13, with Liberation and Freedom Day, March 3, during its meeting on Monday. The city designates the closest working day as a paid holiday — this year, Jefferson's birthday was observed on April 12.
The measure requires a second reading. Council decided to hold two votes — one to add one holiday and another to remove the other.
At issue is Jefferson's legacy as a Founding Father and as a slaveholder. While he wrote in the Declaration of Independence that "all men are created equal," Jefferson forced more than 400 people to live in bondage during his lifetime at Monticello, and he fathered children with Sally Hemings, who was not emancipated while he was alive, according to the Thomas Jefferson Foundation.
Keep reading to find a detailed exchange of council's discussion of this measure.
---
Council bucks recommendation for committee on Lewis & Clark Statue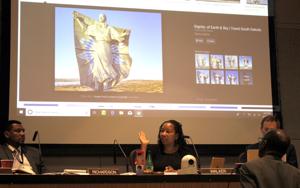 Mayor Nikuyah Walker (center) discusses the "Dignity: Of Earth and Sky" statue in Chamberlain, South Dakota, on Monday as part of Charlottesville City Council's discussion on the fate of the city's 1919 statue depicting explorers Meriwether Lewis and William Clark accompanied by Shoshone interpreter Sacagaw
Nolan Stout / The Daily Progress
Charlottesville City Council has bucked a staff recommendation to establish a committee to decide the fate of the West Main Street statue commemorating the Lewis and Clark expedition.
Instead, the council wants to hold a work session with Native Americans and descendants of Shoshone interpreter Sacagawea to decide the statue's fate and whether it should be replaced with another one.
The council unanimously voted Monday to hold a work session in early fall and bring Native Americans to the city to discuss the statue.
The city will cover travel expenses, not to exceed a total of $75,000.
"I do not want to do another commission," said Councilor Mike Signer.
The 1919 statue depicts explorers Meriwether Lewis, who was born in Albemarle County, and William Clark, accompanied by Sacagawea. Opponents of the statue cite its depiction of Sacagawea in a crouching, subordinate position.
"It still is, probably, the worst statue of Sacagawea in the country," said Anthony Guy Lopez, an enrolled member of the Crow Creek Sioux tribe. "If you do the research, you won't find another one as demeaning."
---
Council candidate wants city to seize unfinished building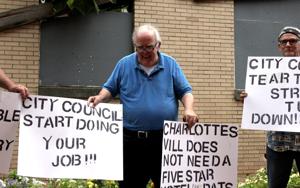 Nolan Stout/The Daily Progress Paul Long, an independent candidate for Charlottesville City Council, holds signs used during a rally Wednesday about the unfinished structure envisioned as a luxury mixed-use facility named The Laramore, formerly called The Dewberry Charlottesville and the Landmark Hotel, on the Downtown Mall.
Independent Charlottesville City Council candidate Paul Long wants the city to seize and demolish the hulking skeleton on Charlottesville's Downtown Mall.
It's gone by The Landmark Hotel, The Dewberry Charlottesville and, most recently, The Laramore.
"This is a disgrace to the city," Long said. "When tourists come here, it doesn't give a good impression."
The building is owned by The Dewberry Group, the company of developer John Dewberry, a former football player-turned-developer who has few, if any, friends in the city.
Long wants the city to take the land through eminent domain. 
State law requires a property to be a public danger or in the way of a public utility for a government to seize it through eminent domain.
Long thinks that hurdle can be overcome after hearing reports of rats taking refuge in the structure and scurrying out to the Downtown Mall at daybreak.
The city would have to pay fair market value for the property, which is more than $6 million.
Long will appear on the November ballot alongside unaffiliated candidates Bellamy Brown and John Hall, as well as Democratic nominees Michael Payne, Lloyd Snook and Sena Magill. 
---
Petition wants UVa to remove Clark statue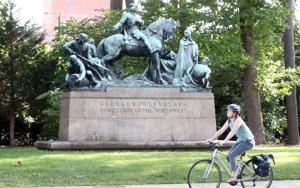 ANDREW SHURTLEFF/THE DAILY PROGRESS The George Rogers Clark statue located on West Main Street near the University of Virginia.
As the University of Virginia examines its history with Native Americans, a petition is circulating asking the school to remove a statue depicting an attack on a native family.
David Swanson is seeking signatures on the petition to remove the memorial to George Rogers Clark and has been in contact with UVa President Jim Ryan about the statue.
Clark, who was born in Albemarle County, was a general who fought Native American tribes as the U.S. expanded westward following the Revolutionary War.
The statue calls him the "Conqueror of the Northwest." It sits at the intersection of West Main Street and Jefferson Park Avenue on UVa property.
The sculpture depicts Clark on a horse as a Native American family cowers in fear and one of Clark's men circles around the horse wielding a gun.
"It looks like they're about to be trampled or killed," said Anthony Guy Lopez, who is an enrolled member of the Crow Creek Sioux tribe in South Dakota and holds a master's degree in anthropology from UVa.
---
Hey-Hey Whaddya Say
Unfortunately, hockey season is over. But, since we last spoke, the St. Louis Blues beat the Boston Bruins to win their first Stanley Cup. I'll give you the following gif of that celebration.
But let's also talk about how the broadcast captured at least 10 "f-bombs" before NBC decided they should probably cut the mics. Luckily, YouTube is the place where you can watch and hear each and every bit of the "exultation language."
---
Overheard in chambers
During the June 17 City Council meeting, councilors were discussing the celebration of Thomas Jefferson's birthday as an official holiday. When Councilor Kathy Galvin offered that Jefferson should be remembered for his positive contributions to the country, Mayor Nikuyah Walker responded with a zinger.
---
Odds & Ends
WALL STREET JOURNAL: Schools throughout the country are finding other namesakes for those named after Confederate Gen. Robert E. Lee to avoid a costly renaming process. 
DAILY NEWS-RECORD: The upcoming $2.2 billion in improvements on Interstate 81 were included in a report called "Highway Boondoggles 5" put forward by think-tanks Frontier Group and the U.S. Public Interest Research Group.
PENINSULA CLARION: A member of the Satanic Temple offered an invocation at a Borough Assembly meeting in Alaska, prompting walkouts from about a dozen attendees and borough officials, and a protest outside the building. The invocation reportedly ended with "hail Satan."
---
Your tax money pays for most of the services in Charlottesville. Your thoughts, opinions and questions matter to shape public policy and being informed on the issues is the best way to make your voice heard!
If you enjoy this newsletter and like sharing things, send your friends and colleagues to this link. We need your help to grow the newsletter!