---
Welcome to Friday, July 12!
---
It's been a little while! Welcome to the last month of the academic summer.
Higher ed topics I'm thinking about for the upcoming school year: Latinx access, first-generation students, partnerships with community colleges, administrative turnover and student mental health. If you have suggestions for stories that I should follow, or areas of focus for the upcoming school year, please let me know!
And if you're enjoying In Other Words, share it with a colleague or friend and make sure they subscribe to the newsletter! You can also get full digital access to The Daily Progress at $3.95 per month!  
---
Help for caregivers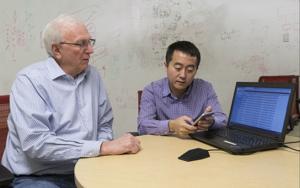 Jack Stankovic (left), a professor of computer science at the University of Virginia, and Hongning Wang, an assistant professor of computer science at UVa, are using two tracks of machine learning to analyze caregivers' moods and prompt positive actions in care for dementia patients.
Dan Addison/University of Virginia
University of Virginia researchers have a novel idea for supporting caregivers who are taking care of family members with dementia: put a recorder in the home and monitor for anger and stress.
In order to help people with Alzheimer's and other dementia diseases stay at home, the medical community must support caregivers, researchers told me. Caregivers are often under tons of stress, and identifying stress and using prompts to help them calm down will hopefully make long-term care more sustainable for both the patient and the caregiver, they said.
---
First compassionate care program in state tested in Fluvanna prison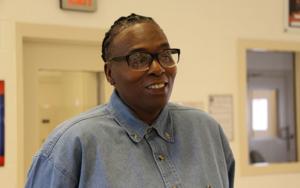 Courtesy Virginia Department of CorrectionsWanda Turner, 54, participated in a recent compassionate care project at the Fluvanna Correctional Center for Women and helped to ease a fellow inmate's final days.
Courtesy Virginia Department of Corrections
Eight inmates at Fluvanna Correctional Center volunteered to hold hands, sing and pray with a fellow inmate who was in hospice care.
The program, they told me, gave them peace about missing a family member's last moments and about fears for their own eventual death in prison.
"I didn't know who she was, but she was somebody's child. She deserved that care and attention," Dina Miller, an inmate, told me.
UVa's Tim Cunningham also talked with me about the concept of compassionate care, and the positive impact it can have throughout prison and medical systems.
This was a really, really cool story to report out, and I'm thankful so many people told me about the process and its outcomes. If you have stories to share about the importance of human empathy in tough situations, please let me know! ​I'd love to hear about them.
---
Free expression clinic dissolves
The Thomas Jefferson Center for the Protection of Free Expression, which was directed for a long time by former UVa President Bob O'Neil, announced recently that it would close and donate its assets​ to restart the School of Law's First Amendment Clinic.
We're not yet sure what will happen to the Muzzle Awards or the Free Speech Wall, but board chair Bruce Sanford said he felt the gift could help the law school's ability to find and try important first amendment cases.
---
Student group recruiting other potential first-gen students
Several first-generation, low-income students at the University of Virginia realized that they had not heard of UVa until well into their college application journey, and had never had the chance to tour the school before accepting their spots.
They created an organization, Hoos on First, to offer other students who will be the first in their family to attend college the chance to visit UVa during their junior year of high school.
---
Good dogs around Grounds
Have a pet pic to share from UVa or around Charlottesville? Send it to rserven@dailyprogress with a note about who took the picture for a chance to be featured!​
---
Around Town
---
Odds and Ends
---
It's your turn
Your tax money pays for (some of) the University of Virginia. Perhaps you work for the university or the hospital, or maybe a family member is taking classes. Perhaps you're just interested in what's going on in this corner of the Blue Ridge. Your thoughts and opinions and questions matter!
Finally, if you enjoy this newsletter and like sharing things, send your friends and colleagues to this link. We need your help to grow the newsletter!