Hello and welcome to the first edition of In Your Backyard, a newsletter about Albemarle County government news!
My name is Allison Wrabel, or as many of you know me from Twitter, Craftypanda. I enjoy running, watching the Browns, talking about land use and hanging out with my cat, Leo. 
I've been a reporter at The Daily Progress for 4.5 years, and I began reporting on Albemarle County government in February 2017 (you can read my first county story about the proposed budget for fiscal year 2018 here. How far I've come!).
I'll be sending out a newsletter the second and fourth Wednesdays of the month, which are the weeks between Board of Supervisors regular meetings. 
Check out what's been happening in Albemarle government so far this month!
---
'The mall as we know it, for the most part, is dead'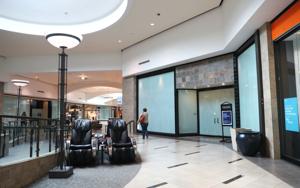 Many stores have closed in the Charlottesville Fashion Square mall in recent weeks, leaving vacancies throughout the property.
ERIN EDGERTON/THE DAILY PROGRESS
As retail changes, Fashion Square is experiencing many of the same issues as other enclosed shopping malls around the country.
Recently, the $45.2 million loan on the mall was sent to special servicing, according to special servicer notes, which were limited, indicating only that the loan is "facing imminent default."
Last year, the mall's owner Washington Prime Group reclassified it from a Tier II property to a non-core property, which means the company will likely remove the mall from its assets.
A number of mall stores that have closed since late 2018 were owned by companies that declared bankruptcy — Sears Holdings, Charlotte Russe, Crazy 8, Payless ShoeSource, Charming Charlie and Motherhood Maternity.
Mark Cohen, the director of retail studies at Columbia University's Graduate School of Business, told me that the rise of e-commerce, poor leadership among mall developers and retailers and unchecked retail development have led many malls to decline. 
"I think this trend has no end in sight," Cohen said. "I think there are hundreds of malls that are failing and will fail — a few will be saved."
The mall is in an area that Albemarle County has identified as a priority area for public investment and redevelopment, and the county is currently working on zoning updates for the area. 
(And, at least for the time being, the University of Virginia is NOT buying the mall.)