Plastic Surgery Experts Can Help Freeze Away Stubborn Fat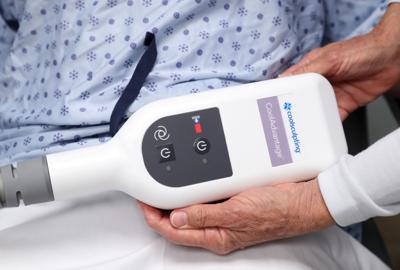 Sometimes, no matter how hard we try through healthy eating and exercise, it's a struggle to get rid of a few stubborn bulges.
Thanks to an innovative technology, you may now have the option of freezing away the fat.
Since November 2017, the Center for Plastic Surgery at Sentara Martha Jefferson has offered CoolSculpting®, an FDA-approved, nonsurgical body-contouring procedure. Developed in the early 2000s by Zeltiq Aesthetics, the technology treats stubborn fat in certain areas, including the abdomen and trunk, under the chin, the upper arms, and the inner and outer thighs. Unlike diet and exercise, which may shrink fat cells over time, CoolSculpting gets rid of fat cells in treated areas permanently.
How Does CoolSculpting Work?
During the procedure, the patient sits in a chair and can pass the time reading, watching TV or checking e-mails. The plastic surgeon uses special applicators to deliver the technology to trouble spots where the patient wants to lose fat, supercooling those fat cells to a temperature of minus 11 degrees Celsius (about 12 degrees Fahrenheit). This deep-freeze process effectively kills the fat cells, which the body then gradually absorbs and eliminates. According to CoolSculpting.com, typical results range from a 20-25 percent reduction in fat cells in treated areas.
Scientifically known as cryolipolysis, CoolSculpting isn't a quick fix for weight loss or a viable treatment for obesity. During the initial consultation, the surgeon assesses the patient's areas of concern and determines whether CoolSculpting is, in fact, the best treatment option.
"For some patients, surgery will offer the best results," says Sentara Martha Jefferson plastic surgeon Victoria Vastine, MD, FACS. "If a person isn't a candidate for CoolSculpting, it's almost always because they have a lot of extra skin that needs to be removed surgically. In those cases, CoolSculpting wouldn't be effective. Once we complete the assessment and make recommendations, we can plan out the treatment—this isn't a one-treatment-fits-all type of procedure, which is why it's best to work with someone who specializes in body contouring."
Performed in the doctor's office, the CoolSculpting procedure typically takes about 35 minutes, although it can take longer in some cases. For optimal results, patients may need multiple applications, even for one section of the body. The belly, for example, typically requires about four applications. And some patients choose to have multiple areas treated.
After a treatment, the patient can resume normal activities right away. He or she may feel swollen or tender in the treated areas for a few days, Dr. Vastine notes, but the level of discomfort is typically mild. Fat cells start dying within days of treatment, and noticeable results usually appear within 60-90 days.
Look Great, Feel Great
CoolSculpting is ideal for healthy people who are not significantly overweight and simply want to sculpt areas of stubborn fat. The procedure also is a good option for older patients—unlike liposuction, which is better tolerated by younger patients. Dr. Vastine, in fact, has used CoolSculpting to treat numerous patients in their 70s.
"This procedure is convenient and ideal for people who are active and want to maintain their exercise routines and stay on the go," Dr. Vastine adds. "Unlike surgery, this procedure doesn't require a recovery period, during which the patient would have to limit activity."
After undergoing CoolSculpting, it's important for patients to make healthy choices in diet and exercise to help maintain the positive results.
"The patients I've treated often say that they are amazed to see these types of results without having surgery and without any downtime," Dr. Vastine says. "We're pleased that Sentara Martha Jefferson now offers this innovative treatment to the community, giving patients another body-contouring option that can help them feel better and more confident about the way they look."
The Center for Plastic Surgery is offering a "Buy 3 get 1 FREE" promotion for Coolsculpting sessions scheduled during the monthofDecember.
For more information, or to schedule an appointment, call 434-654-8920.