Since launching in 2015, Sentara Martha Jefferson's neurointerventional surgery service has grown significantly in Central Virginia, as evidenced by its recent partnership with the three exceptional specialists who comprise the Blue Ridge Area Interventional Neuroradiology team, Dr. Lee Jensen, Dr. John Gaughen, and Dr. Andrew DeNardo.
Growth and Excellent Outcomes
Initially focused on Charlottesville and its surrounding counties, the opening of the helipad outside of the Sentara Martha Jefferson emergency department allowed faster transport from a greater distance to the hospital's emergency services, including stroke care. This new transport option allowed sister hospital, Sentara RMH Medical Center, to send its patients in need of neurointerventional surgical services over for quick access to advanced stroke care.
As the hospital worked on improving transport times, it also improved its overall treatment times for stroke patients. For example, their door-to-groin times for all patients to 21 minutes, and door-to revascularization (clot removal) is 64 minutes, below the national guidelines of 120 minutes. The outstanding work to improve patient care also garnered Sentara Martha Jefferson the honor of being the first hospital in the country designated as a Primary Plus Stroke Center by DNV-GL Healthcare, a healthcare accreditation organization that accredits more than 500 hospitals in North America.
"We are so proud of our team and the work they have done to achieve these great outcomes," said Marijo Lecker, vice president of clinical services for the Sentara Blue Ridge region. "So much hard work and dedication has gone into making sure our communities have access to the highest level of care."
Expanding the Team
With the growth Sentara Martha Jefferson had been experiencing in its neurointerventional surgery service line, the hospital recognized a need to expand access to its services and began contracting with Drs. Jensen, Gaughen, and DeNardo.
"As our technologies improve, we are finding enormous demand for this Endovascular Stroke service throughout Central Virginia," noted Dr. Gaughen, Sentara Martha Jefferson's first interventional neuroradiologist, and founder of the Sentara Blue Ridge neurointerventional surgery program. "Blue Ridge Area Interventional Neuroradiology has been formed to help provide expert management of this ever-growing patient population."
Dr. Gaughen and Dr. DeNardo both trained under Dr. Jensen, and the trio is pleased to be able to work together again.
"The three of us have all worked together at different points in our careers, so we have a strong sense of collegiality and teamwork," said Dr. Jensen. "It kind of feels like we got the band back together, and it is always exciting to work with people with such high levels of expertise."
In fact, Dr. Jensen brings with her an illustrious career, with 38 years of experience in diagnostic and interventional neuroradiology. Dr. Jensen was a participant in the first brain aneurysm coiling ever to be performed, during her fellowship at UCLA, and she brought that technology to Virginia. She is currently the Society of Neurointerventional Surgery (SNIS) representative to the NIH-funded Brain Attack Coalition, which represents the major thought leader and policy maker for national guidelines relating to stroke, and she holds the title of Chairperson for the U.S. Food and Drug Administration (FDA) Neurological Devices panel, the panel tasked with approving new devices for use in the clinical setting.
Dr. DeNardo joins the team from Indianapolis, where he has served as a neurointerventionalist in two of the largest trauma and stroke centers in the United States. During his tenure in Indianapolis, Dr. DeNardo has held many leadership roles, including Director of Neurointervention and Stroke at both St. Vincent Hospital and Indiana University Health Hospitals.
Improving Access
"One of the primary reasons we partnered with Sentara Martha Jefferson is to ensure that people in Central Virginia have a choice in where they receive their care," said Dr. Jensen. "We can provide patients with a very high level of care in a community hospital setting, which is where many people feel more comfortable. Sentara Martha Jefferson offers a warm, quiet environment that is very conducive to healing."
With three providers, the team is also able to further expand the services it offers to Sentara RMH patients. They will be establishing an outpatient clinic in Harrisonburg that will allow those patients to stay closer to home for pre-procedure work-ups or for follow up treatment.
"Drs. Jensen, Gaughen and DeNardo are all extremely compassionate and thoughtful providers whose approach to patient care complements their experience and skills," said Lecker. "We are thrilled to join them in providing exceptional care to the Central Virginia community."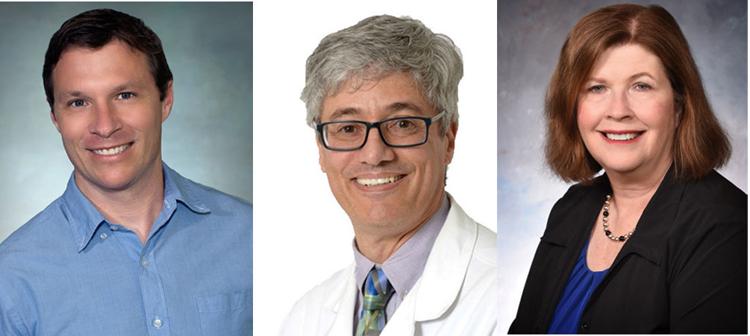 ---
To schedule an appointment, call the Sentara Martha Jefferson Neuroscience Center at 434-654-8960. To reach Blue Ridge Area Interventional Neuroradiology (BRAIN) after hours, call 1-866-786-9481.