Player of the Year
Gavin Segraves, senior, Western Albemarle
The senior standout capped off a sensational two-year career at Western Albemarle by leading his team to back-to-back VHSL Class 3 state championships. Segraves did not lose a singles or doubles match during his high school career in Crozet. He defeated York's R.J. Novak in straight sets to capture the Class 3 state singles title, then teamed with Alex Ix to defeat Novak and Aryan Prabhudesai in the state doubles final. Rated a four-star recruit by Tennis Recruiting Network, Segraves is the top-ranked U18 player in Virginia on the USTA circuit. He was ranked 10th in the Mid-Atlantic Region and 57th nationally. Segraves will continue his tennis career at the United States Naval Academy.
---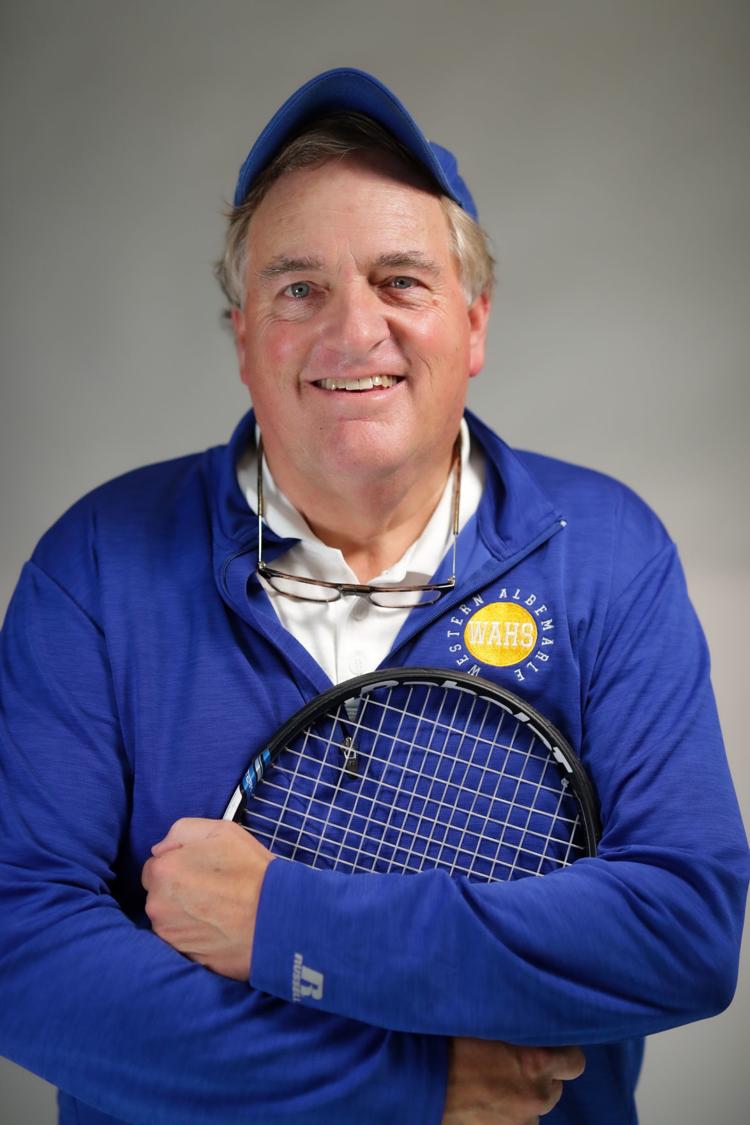 Coach of the Year
Randy Hudgins, Western Albemarle
Hudgins made the most of his first season in charge of Western Albemarle, guiding the Warriors to a state championship. Western captured Jefferson District, Region 3C and Class 3 state gold under the first-year coach. In addition, the Warriors swept high school tennis' triple crown with in singles, doubles and team championships.
First team
Alex Ix, Western Albemarle
Ix was nothing short of sensational this spring for Western Albemarle. The junior went unbeaten at No. 2 singles for the Warriors and pushed top-ranked Gavin Segraves in practice every day. Ix captured his third straight Class 3 state doubles title and helped the Warriors win the Class 3 team title. He is verbally committed to play at Virginia Tech
Zavan Fahim, Albemarle
Fahim won the Region 5D singles title with a 6-0, 6-1 victory over Harrisonburg's Toby Yoder. He represented the Patriots in the Class 5 singles finals, falling to eventual state champion Momin Kahn of Rock Bridge 6-2, 6-1 in the state semifinals. He also teamed with Lucas Balcells to win the Region 5D doubles title with a 6-0, 6-2 win over Massaponax.
Andrew Watson, Monticello
The senior posted a singles record of 13-3 and reached the Region 3C singles finals. Two of his three losses this season were to the eventual state singles champion. He will play collegiately at Mary Washington. 
Cleve Packer Jr., Charlottesville
Packer Jr. served as co-captain and played No. 1 singles for a Black Knights' squad that finished the season with a 12-5 record. The senior posted a singles record of 13-3 and reached the Region 4D quarterfinals and guided the team to a berth in the regional semifinals. In doubles, he teamed with John Emery to post an 11-2 record and reached the regional semifinals. He will continue his playing career at Virginia-Wise.
Andrew Carson, Covenant
Carson led the Eagles to another trip to the Virginia Independent Schools Athletic Association Division II state championship match. The senior played No. 1 singles for Covenant and garnered first team all-state honors.
Alex Vangelopoulos, Covenant
Vangelopoulos and Carson formed a strong-one-two punch atop the lineup for Covenant. The junior standout was a force at No. 2 singles for the Eagles and was a key cog in their run to the VISAA Division II state finals. He was a first team all-state performer.
Jack Tribble, Western Albemarle
Tribble capped off a sensational career at Western Albemarle with another state title. The senior standout played No. 3 singles and No. 2 doubles for the Warriors and lost just two singles matches all season as part of a talented lineup.
Lucas Balcells, Albemarle
Balcells emerged as rising star for Albemarle's boys' tennis team this spring. The junior teamed with Zavan Fahim to win the Region 5D doubles title with a straight-sets victory. He also was a fixture at the top of the singles lineup for Albemarle.
Ben Grant, Covenant
Grant was another veteran presence for the Covenant boys tennis team during their run to the VISAA Division II state finals. The senior captured a big singles victory for the Eagles during the state finals against Highland. He was a second team all-state performer.
Robert Wood, Covenant
Like Grant, Wood was a steady performer for Covenant at No. 4 singles as well as in doubles. The senior earned second team all-state honors and had strong performance for the Eagles during the state finals.