It took 22 Virginia lacrosse games without Dom Starsia as the head coach for him to finally decide to watch one. And if you ask him, it wasn't much of a decision. He was just enjoying lacrosse on TV with the family on a lazy Saturday afternoon at home when the game came on.
A couple of orange loudspeaker cones with the phrase "Go Hoos" stickered on the side sit on his coffee table. An orange and blue blanket is draped over the couch facing the television. As Starsia tries to push UVa into the backdrop of his life, there are perpetual reminders everywhere he looks.
This wasn't some grand event, he said. Not pre-planned. Not something that shifted the Earth's axis. First, Starsia watched the Loyola-Navy game, then he took in some of Harvard-Brown. The game after that, Notre-Dame-Virginia, was, in his words, "just there, so we watched it."
To Starsia, it's not significant that he watched this one Virginia lacrosse game, because it doesn't change anything. It doesn't change his negative feelings toward the school's athletic department. It doesn't change the way he was treated, and it doesn't change the in-between nature of his day-to-day existence.
Watching one game doesn't make Starsia the Cavaliers' biggest fan. It doesn't make him want to watch the next game or the one after that. Watching one game isn't significant. Not watching the rest is what speaks louder.
"I've been blessed beyond reason, really and truly," Starsia said. "Even with that, I'm allowed to be disappointed that my relationship with UVa ended in a disappointing manner."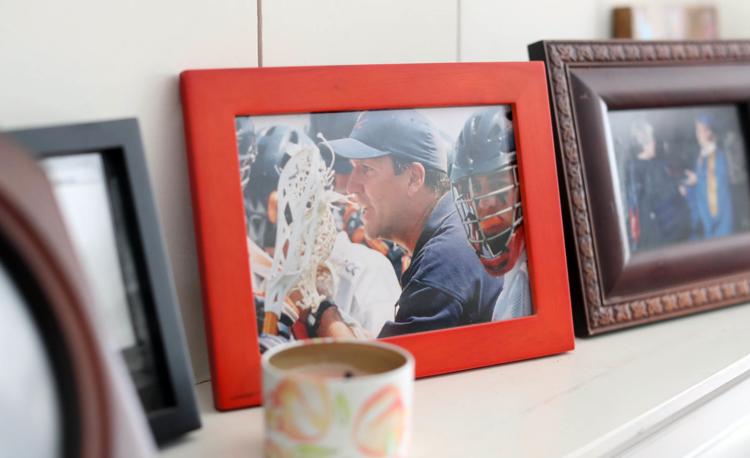 Starsia is Virginia lacrosse. Well, he was Virginia lacrosse.
The 24-year, four-time national champion head coach left the program in 2016 unceremoniously. It has left the 65-year-old in a personal and emotional limbo. It's stripped him of his head-coaching identity, but left him stuck living in a town where his existence is still tied to his past.
The Starsia family is entrenched in Charlottesville with no plans to leave. And it's that way because of their two 32-year-old twin daughters, Maggie and Emma, who both have intellectual disabilities. Both live happily at Innisfree Village, an assisted living facility.
This place, Starsia says, is where he wants his daughters to live the rest of their lives. It's more important to him to be near them than take another head coaching job. He's willing to suck up the hurt caused by his fractured relationship with UVa. For them, he'll gladly accept the awkwardness of being a coach without a team.
"[They are] really important for Dom, to have them there all the time," said 21-year assistant and longtime friend Marc Van Arsdale. "In a way, [they are] a reminder that things were OK, in a lot of ways, win or lose. There are people there that are going to be there for you, regardless of the situation. And, obviously, he's that way for those two, and always will be."
The morning after Virginia lost to Brown to finish the 2016 season with a 7-8 record, Starsia returned to his office on Grounds. He was in the gym, on an exercise machine, when he got a call from then-UVa athletic director Craig Littlepage, asking to meet.
Within an hour, Starsia was in Littlepage's office, which was down the hall from his. The first words out of the AD's mouth were that they were going to make a coaching change. The conversation ended with Littlepage telling Starsia to "think about it." This, Starsia believed, meant Littlepage — who declined an interview request for this story — was offering him the opportunity to gracefully resign.
"Their mind was already made up," Starsia said. "That, to me, was disappointing. After 24 years at UVa, I would have expected a little bit more consideration. Part of my trying to figure out this time in my life right now is maybe related to not feeling like it ended quite on my terms."
Starsia declined to resign, instead suggesting that UVa extend his contract five months. He was going to be paid until January regardless, why not extend that to June and let him coach one more season? If Littlepage felt the same way after that time, Starsia would step away.
UVa had fallen off in lacrosse, there was no doubt about it. The Cavaliers hadn't played on NCAA Championship Weekend since 2011. They'd gone winless in ACC games for three straight years and suffered two losing seasons (2013 and 2016). Recruiting started to dip as North Carolina's lacrosse program developed. The lingering aftermath of a 2012 second-degree murder conviction of former Virginia lacrosse player George Huguely V might have impacted recruiting, as well, Starsia believes.
That said, this was a head coach with as much a winning pedigree as anyone who had ever coached the sport. Starsia was one of the most successful coaches in UVa history. He'd been an ambassador for the game and an ambassador for the school. He had the backing of his team, many former players and the program's donors. He assumed Littlepage would listen to him.
But Starsia said he wouldn't budge.
Not until Littlepage's return from ACC-related conferences did he give in to alumni and booster demands to keep Starsia on. At that point, a 3 1/2-week back-and-forth ordeal left an unbearably sour taste in Starsia's mouth.
He didn't know much of what was going on. His assistants didn't know what was going on. His players were left in the dark, aside from an occasional email from Starsia. There was no recruiting going on, just anxious waiting.
When the five-month extension eventually was offered, Starsia declined, not wanting to work for someone who dragged out a firing and hiring process with confusion for nearly a month. He did not want to work for someone who didn't truly want to employ him.
"You're most disappointed that a place, institutionally, that you had come to really appreciate and respect could treat one of its own — who had done so much for it — the way he got treated," Van Arsdale said. "That is a travesty and, I think, a real black eye on the University of Virginia."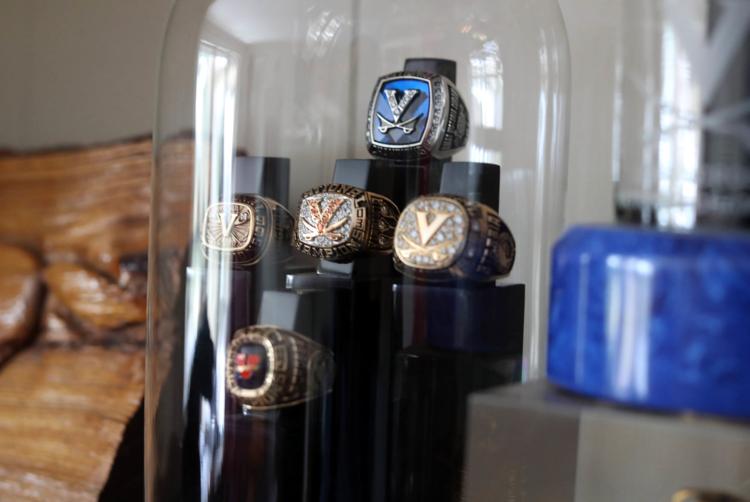 Leaving UVa has forced Starsia into an unfamiliar role. He's the sport's perpetual mentor, often traveling to speak with different teams. He has a part-time consulting role with the Boston Cannons of Major League Lacrosse. He's on the executive board of Harlem Lacrosse.
He's visited Gonzaga College High School in Washington, D.C. He went to Stevenson University. He's spoken to the girls team at The Covenant School. He's talked to Loyola's lacrosse team, where Van Arsdale is now an assistant coach. He's spoken at an event with the head coach of Albany — now the nation's No. 1 team — in attendance. Pretty much anyone and everyone who wants Starsia's advice, gets it. And he's repaid in the reverence that young players show him.
Starsia meets with current Virginia head coach Lars Tiffany usually once a month. Tiffany played for Starsia when he was the head coach at Brown in the late 1980s. When Tiffany first got the job, he stayed at Starsia's home for a month with the elder coach on vacation in New York.
Current UVa players often talk with Starsia. Senior captain Scott Hooper meets and speaks with him regularly. When a younger player was suspended earlier in the season, Starsia reached out to him.
"Dom has always been a great mentor in life and lacrosse," Hooper said. "That doesn't change. He might not be our coach anymore, but he's been around this game longer than anybody I know."
He speaks with current and former UVa coaches across other sports. Starsia is next-door neighbors with football coach Bronco Mendenhall, and the two rode horses together the day after the Cavaliers' difficult 2-10 season in 2016 ended.
His relationships with individual people in the UVa community are strong. Starsia's relationship with UVa as an institution, however, is broken.
"We just need to put some time behind this thing," Starsia said. "I don't know how much time that will be. I don't know if we ever will really reconcile this whole thing."
Starsia writes lengthy coaching essays in his home office. The walls are covered in UVa lacrosse mementos. Starsia's memorabilia includes a commemorative painting of the 2006 national championship team, four national championship rings and his first ACC championship ring in a plastic case — a Hall of Fame ring next to it, plaques from every championship, photos with old players and old lacrosse sticks and helmets. The reminders are literally impossible to miss. Still, Starsia writes his essays engulfed in a room of memories and sends them out to a large list of people to read, publish and enjoy as they please.
Starsia's entire career was in coaching, and, in many ways, it still is. There just isn't one single place to focus that energy.
"In some ways, I feel like maybe I'm overcompensating for not working," Starsia said. "… Not coaching, being here in town, it's a little awkward. It's just my issue, and I have to work through it."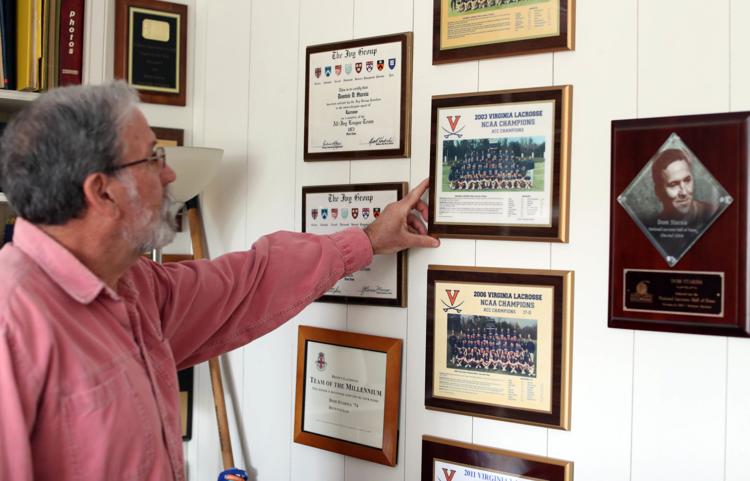 Most Sunday mornings, Starsia and his daughters, Maggie and Emma, go to church together. The two will spend weekends at home before going back to Innisfree on Monday. After church, though, that's the best part of the week.
That's when they get McDonald's. Innisfree is more of a soup-and-salad type of place, Starsia says as he places their order. This is a time for indulgence. Maggie and Emma have constant smiles on their face. They light up at everyone and everything they see.
For years, they were the most recognizable UVa fans. They would go with Starsia to all different types of Cavaliers games. They loved wrestling, volleyball and, of course, lacrosse. It was entrenched in their life in a way that has changed since Starsia left the Virginia lacrosse program.
Only recently have his daughters started to acknowledge that their father is no longer the coach. They don't verbalize much, but in recent months, it's become clear that, even though it's still Dad's team, he's no longer the one leading it.
That's not just the way his daughters see it. In Starsia's eyes, it's the way alumni see it. It's the way parents — who invite him to games and tailgates with unsuccessful results — see it. It's the way even Tiffany sees it when the first thing he's asked, in perpetuity, is about how Dom is doing.
"You ask me how I'm going," Starsia said, "I'm gonna say that I'm still figuring that out."
Tiffany wants Starsia to be a part of Virginia lacrosse.
"I always want Dom Starsia to be associated with the greatness of UVa lacrosse," he said.
Tiffany made no bones about it. He wants Starsia in the stands. He wants him interacting with alumni, parents and fans. He wants him to be comfortable doing it.
"Moving forward," Tiffany said, "as Dom grows more comfortable … I hope that we get to see Dom more and more around here."
But he speaks about the situation with idealism. Virginia hasn't honored Starsia, and Starsia wouldn't want them to, anyway. Newly named AD Carla Williams hasn't reached out to Starsia, nor does he expect her to do so.
"She doesn't know me from a hole in the wall," Starsia said.
Starsia desperately wants Tiffany to break Virginia's lengthy losing streak in ACC play, but there's no chance he'll be cheering from the bleachers if and when it happens.
In Starsia's mind, Littlepage and UVa didn't take into account his family, and the lifelong Innisfree bills they'd have to pay — or the die-hard support the family has shown others in Virginia athletics. They didn't take into account his success, guiding Virginia to the top of college lacrosse for more than a decade. They didn't trust him when he spoke highly of his expectations for that next season with a bolstered recruiting class.
Starsia repeats that he's not bitter, but his relationship with Virginia is fractured to the point where he freely acknowledges that it may never heal.
"I think it was a little shocking to everybody when this whole thing unraveled," Starsia said. "I think we all sensed there was more to this than just the wins and losses. And in the end, it appeared that was the defining piece of this puzzle. … I'm disappointed in how my career at UVa came to an end."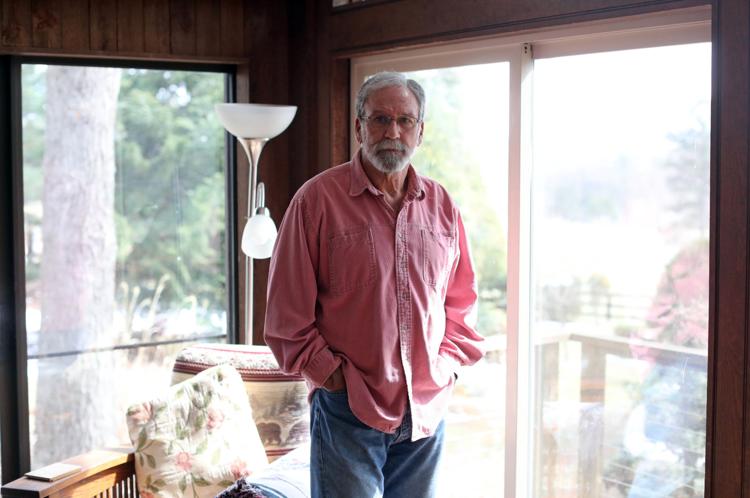 Starsia's let his hair grow out a bit. His beard is long, making him slightly less recognizable from his coaching days.
He was recently at the Boar's Head Sports Club fitness center working out. Though a longtime member, he didn't use the facility until after leaving the UVa lacrosse program.
It's more of an experience in isolation. He doesn't know anyone or recognize anyone there. He's not there to interact, not there to look good or impress anyone. Starsia figured no one noticed him just as he didn't notice anyone else.
"I sat over in the corner one time after I worked out," Starsia said. "An older fella comes over, very nice, and says, 'Hey coach, just want to let you know how much we appreciate what you've done for the community.'"
"It was like, 'Oh my God, these people recognize me.' I'm sure they're going back saying, 'You ought to see Starsia, he looks terrible.'"
He tells this story with a smile on his face, but it's really the root of his issues. In Charlottesville, he's Coach Starsia. But in his mind, in his occupation, in his life, he's trying to distance himself from that identity because he has no other choice.
He talks about his friend Karen Shelton, the 36-year head coach of the North Carolina field hockey team. He said she plans to move from Chapel Hill after retiring. The minister of Starsia's church couldn't enter the building for a year after his retirement — to help ease the transition for both himself and the new minister.
These are top-of-mind examples for Starsia, what he wants for himself. But there's no leaving Charlottesville. There's no escaping the identity he's cultivated here.
As he sits in the McDonald's, Maggie and Emma next to and across from him, smiling as they finish their French fries, Starsia is asked if he regrets saying no. He was given the opportunity to go back to Virginia at the tail end of a 3 1/2-week process. At the time, he said, "I'm not working for you guys under these circumstances. I'm not going to work for a guy that doesn't want me to be here."
It was easy to say at the time. It was a response borne from emotion, frustration and a sense of betrayal. Two years later, he sits quietly trying to respond to that question. It's nearly half a minute of silence.
The answer is still no. Then, as he starts to elaborate, he's interrupted by a server who smiles at Maggie and Emma as she clears the table.
Virginia lacrosse is the reminder that never stops rearing its head. His relationship with the team and the school is tenuous and awkward but undeniably intertwined.
The McDonald's they're in is on Barracks Road, less than half a mile from Klöckner Stadium. It's two hours before Virginia and Syracuse play there on a sun-soaked Sunday afternoon. Fans toting UVa clothing are sitting at other tables all around the restaurant.
He's not going to the game. He's got errands to do that day, he says. Maybe he'll catch the highlights later on.
Dom Starsia might still be an embodiment of Virginia lacrosse. Virginia lacrosse, though, has moved on from Dom Starsia.
"Clearly, Virginia will persevere," Starsia said. "And I will also persevere."