Jay Huff was not ready to sleep. He was lying under the covers, his head resting on his pillow, but he couldn't shake the memory of earlier that night. The referee in his high school game had gotten it wrong. Blown the call. How could that happen?
His father, Mike, took a seat on the edge of his bed in their Durham, North Carolina home and lent him an ear. Then he drew on his faith and found a familiar story. Jesus Christ got the ultimate bad call, he said. He was sinless but sentenced to death anyway, and accepted his fate.
Huff quieted his mind and listened.
"If we're going to model Christlikeness," Mike said, "this is one way we can do it."
It hasn't always been easy for Huff to accept his circumstances since joining the Virginia men's basketball team in 2016. The 7-foot-1 "unicorn" has the hops to dunk from the free-throw line and the shooting stroke to swish jumpers from anywhere on the court, but he redshirted his first year and rode the bench for much of his second.
He could've transferred. Marshall coach Dan D'Antoni openly campaigned for his services. "Send him down to us," he declared, only partly in jest. But Huff chose Virginia over Duke and others for a reason. In the 'one-and-done' era of Zion Williamson and R.J. Barrett, social media shade and personal brands, Huff connected with Virginia coach Tony Bennett, a devout Christian who runs a program that rewards blue-collar hard work.
So he bided his time. He steeled himself a practice warrior, and if he was going to sit on the bench with the reserves, he made sure to be the loudest one. He explored Grounds and got to know his classmates. He joined UVa's Chi Alpha Christian Fellowship, finding balance and friendship in weekly bible study sessions with his core group.
It is during those meetups, in the college room in the college house, with the worn couch that Huff folds his 7-foot-1 frame into, his knees several inches above the rest, where he finds clarity. Away from the crowds, cameras and fans clamoring for him to receive more playing time, he remembers his purpose.
"He wants to honor God," said Justin Mooney, a member of Huff's core group.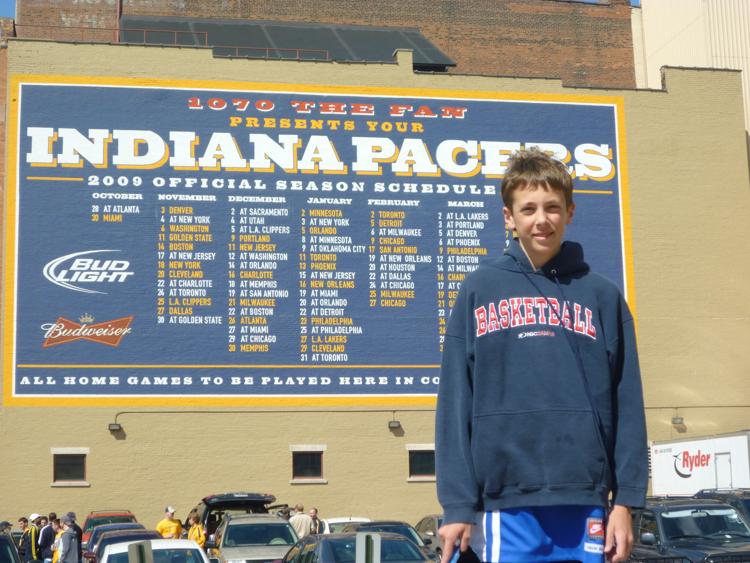 To say Huff was built to be a basketball player wouldn't be completely accurate. Yes, his father, Mike, spent years as director of the Michael W. Krzyzewski Human Performance Lab at Duke. And when Huff was ready, Mike put his son through some of the rigorous training he fine-tuned on Blue Devils athletes.
But for Huff, basketball was a window into something greater. Mike challenged him to ponder how he could honor God through the game.
"The Bible says, 'Whatever you do, work it with all your heart, as if you're working for the Lord,'" Mike said.
Huff embraced that sentiment. When his father challenged him to make 500 shots in a row, Huff parked himself in front of the hoop, sans a rebounder, throwing up shot after shot.
"You're not going to believe it," Huff told his dad. "I made 499 in a row, and missed No. 500."
His stroke grew in sync with his body, and soon Krzyzewski came calling. Playing in front of the Cameron Crazies was a longtime dream of Huff, who attended the 2010 Final Four, when Duke won its fourth national championship.
He probably would've gone to Duke, his parents said, had it not been for the connection he developed with Bennett.
Huff and Bennett, who declined to comment for this story through a team spokesperson, bonded over their shared faith, among other things. By the time Huff and his parents visited John Paul Jones Arena and saw the program's biblically derived five pillars — Humility, Passion, Unity, Servanthood and Thankfulness — mounted on the wall in Virginia's locker room, his mind was made up.
He had grown up a Blue Devil, and it would be easier to claim minutes at Duke, where flash is placed at a higher premium than at Virginia. But Huff's journey is about more than basketball.
The Durham kid was a natural Cavalier.
Huff met many of his closest friends at Voyager Academy High School through the school's Fellowship of Christian Athletes chapter, even though most were not athletes.
He found a similar environment with his Chi Alpha core group at UVa. That he was a 4-star recruit with NBA dreams was of little consequence.
Sure, his new friends needed to crane their necks to meet his eyes. But once there, they analyzed the intricacies of the New Testament, not the Pack Line defense.
Basketball only came up when Huff revealed one week that he'd have to miss an upcoming Chi Alpha event because of practice.
Kiran Menon, a member of Huff's core group, looked up at Huff:
An unplanned run in with Bennett at Chipotle elicited curiosity from another Chi Alpha kid: "Who was that?" On a later occasion, the same friend confused the 6-foot-10, 250-pound Jack Salt for a team manager.
"That's big for me," Huff said. "A lot of my friends back home couldn't care less that I play basketball."
The redshirt sophomore recalled those memories from the stage of Charlottesville's University Baptist Church on Jan. 14, microphone in hand. It was Chi Alpha's weekly 'Monday Night Live' meeting, and it was Huff's turn to give his personal testimony.
He was bestowed the introduction of a basketball star:
"And now, No. 30, Jay Huffffff!" The church erupted. Orange and blue streamers flew in the air, and friends brandished signs.
It was the kind of spotlight he was craving the evening of Nov. 10, 2017, with UNC Greensboro at John Paul Jones Arena for Virginia's season opener and Huff's first game as an active college player.
He waited on the edge of the bench, anticipating Bennett's signal, but it never came.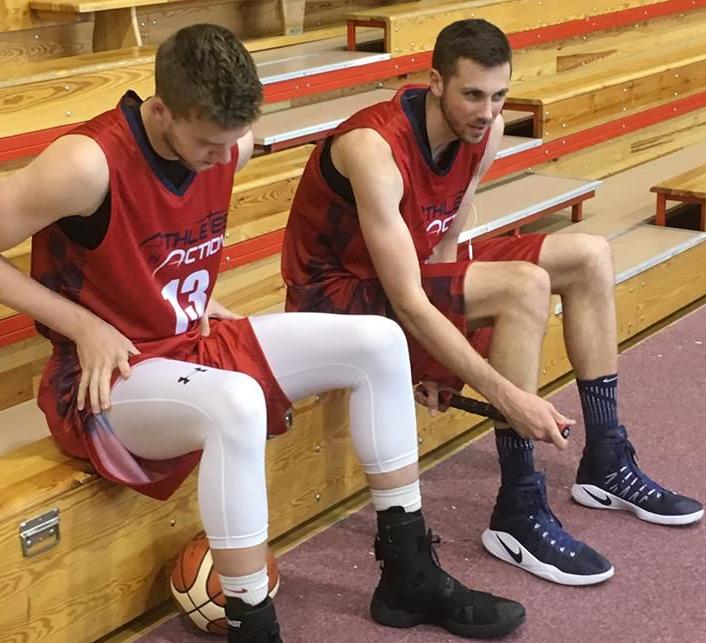 Huff grew up in a church, but his faith was solidified in a Durham Dick's Sporting Goods. Scanning the shelves for a size 15 shoe that was not there, he let out a sigh.
"This world was not made for me," he said, exasperated. His father offered a rebuttal.
"You weren't made for this world," Mike said.
That sentiment has stuck with him.
"I believe that I was created for God's kingdom," Huff said. "I'm obviously supposed to live [on Earth]. But it's not home."
So Huff didn't sink after the season opener. And he didn't soar when, three days later, he converted the first six field goals of his career, scoring 16 points and blocking five shots in his college debut against Austin Peay.
But his faith was tested as the season wore on.
After UNC Greensboro, the next DNP was against Rhode Island. He got another for the Wisconsin game, and yet another against West Virginia. Huff was an afterthought during ACC play, his court time mostly relegated to practice and garbage time. Huff was an observer as the Cavaliers won ACC regular season and conference titles, his warm-up shirt guarding his jersey.
"It was weighing him down," Mooney said.
Few have questioned Huff's ability to score against ACC opponents; it's his defense that has cut into playing time for a coach with higher expectations than most. In high school, it wasn't necessary to master the finer points of that side of the game. Bigger and stronger than the rest, he needed only to sit back and block shots when they came. At 232 pounds, his gangly frame has proved easy for some ACC opponents to exploit.
In lieu of court time, Huff contributed in other ways. In meetups with Bennett, the two prayed for the team. And when program chaplain George Morris missed some of the Cavaliers' earlier games this season, Huff recited prayers for his teammates, inspiring their play while his continued defensive struggles limited his.
"God puts people in a unique position to make an impact," Mike said. "That's why I believe he's at Virginia; to make an impact on that campus."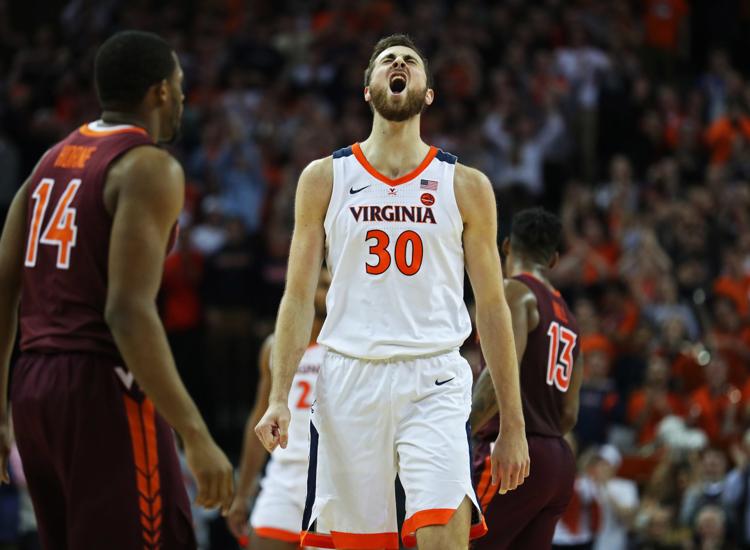 Something clicked at the start of ACC play this season. Huff scored 11 points in 10 minutes at Clemson, and seven points in 11 minutes against Virginia Tech. Finally on the court, Huff launched 3-pointers over outstretched arms, leapt for dunks that made defenders look like high schoolers. 
Bennett commended Huff's play in the team's 66-65 overtime win at N.C. State on Jan. 29. The redshirt sophomore converted a key three-point play in overtime, but not before a sequence on defense that brought the Cavaliers' bench to its feet.
Showing on a screen, Huff forced a loose ball and dove to the ground. He couldn't scoop it, but picked himself up and sprinted from halfcourt to the low block, swatting away an N.C. State alley-oop. PNC Arena groaned.
"That's a winning player. Those are winning plays," Bennett said.
Five days before the win over the Wolfpack, the redshirt sophomore met up with his core group. They went around the room, each sharing their 'high', 'low' and 'grow' from the preceding week. Huff hesitated.
"I don't know that I have a high this week," he said.
"Well, you're getting more playing time. That's a high," one guy said.
"Yes, yes, you're right," Huff said, nodding his head. More minutes, after all, means a greater platform to share his beliefs.
The circle moved on. One guy lamented his girl problems. Another spoke of his desire for more work-life balance. Then it was time to pray.
The guys stowed away their cell phones and settled into the chairs and couches, the chatter giving way to silence. Huff leaned forward, resting his arms on his knees, like all the rest. He closed his eyes and listened.