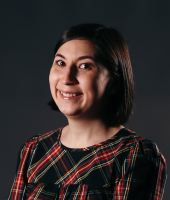 Meghin Moore
Digital Content Coordinator
Bio

Meghin Moore is the Digital Content Coordinator for The Daily Progress. Contact her at (434) 978-7473, mbmoore@dailyprogress.com or @meghin_ on Twitter.
Memorial Day Weekend has come and gone, marking the unofficial start to the Summer of 2020 — or is it the Summer of Quarantine?
Most of us might be reaching the point where we're tired of being cooped up in our homes, or we don't like the idea of social distancing becau…
Will artists start to embrace smaller venues? She hopes so. Even though she loves playing a weird flower shop as much as she loves playing larger venues, she knows that not every band comes from a background like hers.
"I like a lot of older styles, and I think I've been influenced by a lot of the music out of the '50s and '60s. I have strong affinity for when music was kind of all blending together."
"I never anticipated Charlottesville would be such an awesome market for us. The vibe is great! It surprised me how well the show did, and I'm excited that we're going to get to come back for this."
Roy Mayberry of Stafford County has been sentenced to six years of active time for embezzlement and money-laundering. 
"Can You Really Find Me" had a big name with its production: Spoon's Jim Eno. The members of Night Moves were in talks to collaborate with him for a long time.
Much of the band's prolific career has revolved around "The Amory Wars," a series of comic books written by frontman and vocalist Claudio Sanchez. Every studio album the band has released has been a new chapter in the science-fiction saga, except for one: 2015's "The Color Before the Sun."
Seventeen years ago, Interpol burst out into the New York indie rock scene with "Turn On the Bright Lights." Its debut album helped influence …
View all